DVD Review: Running With Scissors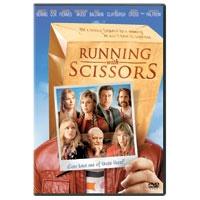 Sony
---
Movie ••• Picture •••• Sound •••• Extras •••
Director/screenwriter Ryan Murphy has created a loving adaptation of Augusten Burroughs' best-selling memoir about two extended families suffering from an encyclopedia of psychological dysfunctions. Murphy's script and direction nail the tragic elements of the story just fine, but miss with the darkly funny observations that jump off almost every page of Burroughs' book. And though the cast - including Annette Bening as his bipolar mother, Brian Cox as his psycho psychiatrist, with Alec Baldwin and Joseph Fiennes portraying severely damaged human beings - are generally excellent, Gwyneth Paltrow is badly miscast as a disturbed daughter of the psychiatrist, while Joseph Cross, playing the 15-year-old Burroughs, simply doesn't have the emotional range to compete with the acting chops of Bening and Cox.
The transfer presents a wide color palette with no digital artifacts or distortions. The absurdly messy and insanely appointed house to which young Burroughs is banished looks great on DVD, with plenty of vivid image detail and an extremely well-defined grayscale, particularly in the darker scenes.
Sonically, the disc is very good, too. An appropriate 1970s soundtrack (think "Benny and the Jets") has good aural dynamics, tight bass response, and nice placement that lets it expand beyond the confines of the screen. Surround-channel effects are well designed and skillfully used for punctuation, especially when Bening's character lapses into manic episodes and delusions in several powerful scenes.
Decent extras include three making-of featurettes. The first two include interviews with Murphy and most of the cast (Paltrow is conspicuously absent) and has a nice segment in which Burroughs shares his thoughts on the production. The final featurette is a reasonably entertaining and informative look at the set design of the house where most of the action takes place. [R] English, Spanish, Portuguese, Dolby Digital 5.1; French, Dolby Surround; letterboxed (2.35:1) and anamorphic widescreen; dual layer.
more of this month's reviews Back to Homepage What's New on S&V
LATEST VIDEO