DVD REVIEW: Nightwatch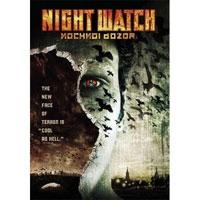 20th Century Fox
---
Movie ••• Picture/Sound •••½ Extras ••
In this first installment of a planned trilogy based on the sci-fi novels of Sergei Lukyanenko, the forces of Light and Dark are preparing for an apocalyptic showdown in the streets of Moscow. Although very backstory-intensive,
Nightwatch
is ultimately more about style. So I advise watching the dubbed-English version on Side A, as there's a marked increase in shadow detail and fewer compression artifacts compared with the Russian-language original on the single-layer B-side. Each boasts an outstanding 5.1-channel mix, spreading the mayhem across the soundstage. Extras include an extended ending, a commentary by director Timur Bekmambetov, and text commentary by Lukyanenko.
[R] Russian and English, Dolby Digital 5.1; French and Spanish, Dolby Surround; letterboxed (1.85:1) and anamorphic widescreen; one two-sided disc.
more of this month's reviews Back to Homepage What's New on S&V
LATEST VIDEO
WHERE TECHNOLOGY BECOMES ENTERTAINMENT