DVD Review: A Mighty Heart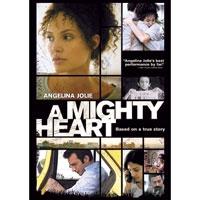 Paramount
---
Movie •••• Picture ••• Sound •••• Extras ••½
In chronicling the events surrounding the kidnapping and subsequent execution of Wall Street Journal reporter Daniel Pearl in Pakistan, director Michael Winterbottom's movie is monumentally sad, gripping from start to finish, and as politically balanced as a Western perspective can be.
Image quality varies from good to grainy and dark, and it suits the story well: This is as much a documentary as it is a fictionalized account of a real event. Interestingly, the sound design is more exacting than the images. There are lots of realistic and spacious surround-channel effects, including a buzz of frenzied action as the apartment where the Pearls lived is transformed into a war room. And outside, the streets of Karachi are alive with traffic and other movement.
Extras are limited. There's a short piece highlighting the work of the Committee to Protect Journalists, another on the foundation established by Pearl's family in his name, and a surprisingly rote production featurette. Comments from his wife, Mariane, upon whose book the film is based, would have been fascinating, but her absence is understandable.
more Entertainment reviews Back to Homepage What's New on S&V
LATEST VIDEO
WHERE TECHNOLOGY BECOMES ENTERTAINMENT