DVD REVIEW: Memoirs of a Geisha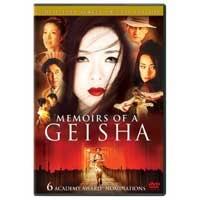 20th Century Fox
---
Movie ••½ Picture/Sound ••••½ Extras •••½
The second disc of this two-disc set has a dozen featurettes - and two of them, "The World of the Geisha" and "The Music of
Geisha
," should be seen before watching the film, since they fill in the blanks of the weak script (something the two dull commentaries fail to do). Yes,
Memoirs of a Geisha
is dramatically vague and cliché-ridden - but its visual elements are fabulous, resulting in Oscars for Best Costume Design, Cinematography, and Art Direction. The DVD brings that opulent, colorful picture of pre-World War II Japan to your home theater with spot-on fidelity. And if you have a DVD player that doesn't crush blacks, you'll find detail in every shadow of the darker scenes. The 5.1 mix is perfect, too, with John Williams's music sounding open and transparent and the effects coming at you from appropriate points around the room.
[PG-13] English and French, Dolby Digital 5.1; letterboxed (2.35:1) and anamorphic widescreen; one dual-layer and one single-layer disc.
LATEST VIDEO
WHERE TECHNOLOGY BECOMES ENTERTAINMENT