DVD Review: The Last King of Scotland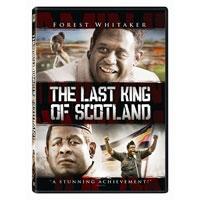 20th Century Fox
---
Movie ••• Picture ••••½ Sound •••½ Extras •••½
Forest Whitaker's Oscar-winning turn as brutal Ugandan dictator Idi Amin is a spectacle unto itself. The movie tends to be a bit uneven and repetitive, but the sheer force of Whitaker's acting carries the day. The performance is all the more remarkable given that Whitaker generally plays characters with self-effacing teddy bears, not demonic megalomaniacs, at the cores of their beings.
Although it would lose most of its narrative power with a lesser actor in the lead role, The Last King of Scotland is a visual treat. In a series of powerful images, director Kevin Macdonald and cinematographer Anthony Dod Mantle present modern Uganda as a blazing kaleidoscope of colors. Though a bit juiced up (I'd guess to illustrate the largeness of Amin as a legendary bad guy), they are never oversaturated or smeared in this excellent transfer. From the African street scenes to Amin's multihued outfits, I haven't seen more consistently powerful tones in a long time. This is a case where excess will do nicely.
Sonically, the disc is above average, too. Dialogue is generally well rendered and crisp, though it doesn't often move much beyond the borders of the screen. On the other hand, surround-channel effects are put to good use in quite a few scenes, particularly when Amin holds court with audiences large and small. There's a telling sense of fear-induced admiration in the form of audible responses from the dictator's subjects that adds nice punctuation to the film's central realities: that this brutal dictator understood the power of fear as a governing tool, and that he had learned this lesson from British colonizers who had come before him.
Solid extras include a commentary by Macdonald, who clearly did his homework on Amin. You also get a handful of deleted scenes (also with director commentary) and three making-of featurettes, the best of which focuses on Whitaker and the techniques he used to channel his character. [R] English, Dolby Digital 5.1; French and Spanish, Dolby Surround; letterboxed (2.35:1) and anamorphic widescreen; dual layer.
more Entertainment reviews Back to Homepage What's New on S&V
LATEST VIDEO