DVD Review: Eastern Promises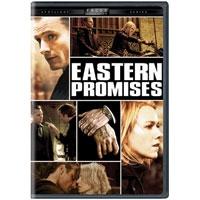 Universal
---
Movie •••• Picture •••• Sound •••½ Extras ••½
These days, it's hard to do something fresh with a mob picture. But horror-director-turned-auteur David Cronenberg manages just that with the taut and engrossing Eastern Promises. Depicting the cultural specifics of the Russian mob in London doesn't hurt the cause. Not only does the whole family-ties-and-secret-society formula feel completely new here, but you get distinctive elements - like tattoos telling each mobster's life story - that you won't find on the traditional mob plate of pasta in Little Italy. Nor will you typically find a movie as convincingly acted and briskly paced as this one, thanks in large part to the flesh-and-blood performances by Viggo Mortensen (nominated for a Best Actor Oscar), Naomi Watts, and several others.
The transfer is crisp and clean throughout, although colors seem a little too digitally enhanced, given the subject matter - at least in the many interior shots. But the endless gray chill of London comes through, setting the perfect tone for such an essentially grim, sporadically violent tale. The 5.1-channel soundtrack is subdued but serviceable, leaving much room for Howard Shore's dirge-like score.
Extras seem rather slight in the wake of the widespread accolades the film has earned. All you get are two documentary segments (totaling a mere 17 minutes) that are instantly forgettable. What would have been good: a commentary from Cronenberg, with his personal take on capturing the unique world of the Russian mafia. [R] English, Dolby Digital 5.1; letterboxed (1.78:1) and anamorphic widescreen; dual layer.
more Entertainment reviews Back to Homepage What's New on S&V
LATEST VIDEO