DVD REVIEW: The Departed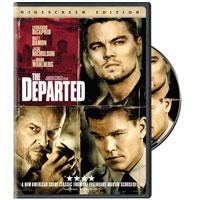 Warner
---
Movie •••½ Picture •••½ Sound •••½ Extras ••••½
Although Martin Scorsese has drawn some compelling performances out of his cast - particularly Mark Wahlberg, who rises to the challenge as never before -
The Departed
lacks the visual flair of the director's other works. It's still a well-paced, complex film, but, like Spike Lee's recent
Inside Man
, it doesn't show much of the artist's personality or style.
In fact, everything seems a little restrained. The music is subdued, both in volume and interaction with the visuals; in most of his films, Scorsese has music come to the forefront at significant moments to become an essential part of the storytelling, but here the unrousing tunes are kept at a distance. The 5.1-channel sound mix is equally unobtrusive and remains stationed at the front for most of the film. It's only when Leonardo DiCaprio is tailing Matt Damon that the music moves into the surrounds, steam hisses all around, and sounds jump out from all corners. Thereafter, there's a bit more panning of effects in the action sequences, mainly vehicles going past, but it's nothing to write home about. Still, it's all very clean and transparent, and the memorable monologues come through clear and well balanced.
Images are filled with attractive, rich, unsmearing colors and deep blacks, although skin tones of background characters can be a bit on the red side. Grain is at a pleasing level and there are no digital artifacts. Even when Jack Nicholson is wearing a gaudy, thin-striped jacket, the two colors are well delineated and there's not even a hint of a moire pattern. Detail is decent, but the picture can at times be a little on the soft side.
The second disc of this 2-disc set contains some excellent extras that more than keep up with the main attraction. In Scorsese on Scorsese, a feature-length 2004 documentary directed by Richard Schickel that would by itself be worth the cost of this DVD, Scorsese talks about his upbringing and influences, relating both to his films. It's all completely fascinating as he explains some of the truth behind the fiction he's created (who knew that The Aviator is based on Greek tragedy?), and it's illustrated with tons of relevant clips from most of his movies, all in the correct aspect ratios. Even Scorsese's American Express commercial comes under analysis.
Although The Departed is an American version of the Hong Kong cop thriller Infernal Affairs, it's also closely based upon the true story of the Boston police's battle to bring down top gangster Whitey Bulger (portrayed here by Nicholson). A 20-minute featurette reveals the skinny on how Bulger managed to run the Boston underworld, and why he's still No. 2 on the FBI's Most Wanted list, just below Osama bin Laden. A must-see 24-minute documentary on the effect of Warner Bros. crime movies on Scorsese's own depictions of the goodfellas (along with that of the real-life hoods he knew in Little Italy) has lots more clips from both the Hollywood classics and Scorsese's own offerings. And the very short deleted scenes with introductions by their director are a good example of how Scorsese can make anything more interesting with his infectious enthusiasm and astute observations.
more of this month's reviews Back to Homepage What's New on S&V
LATEST VIDEO