DVD REVIEW: Delicatessen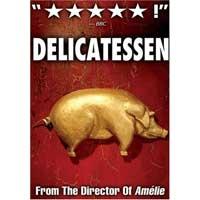 Miramax
---
Movie •••• Picture/Sound •••• Extras •••
Now known for the vivid, otherworldly look of movies like
The City of Lost Children
,
Alien: Resurrection
, and
Amélie
, director Jean-Pierre Jeunet began his feature career with
Delicatessen
(1991), probably his most original and surreal piece of work. Although it takes place in a postapocalyptic France where lentils are used for cash and cannibalism is rampant, it somehow manages nonstop hilarity. The smoky, sepia-toned visuals are central to the experience, and they look sharp and true on this long-awaited DVD. Even the matrixed surround soundtrack displays remarkable depth and detail. Sadly, extras are a little thin. A short, narration-free, on-set documentary doesn't reveal much about Jeunet's peculiar magic, and a brief compendium of rehearsal and audition footage likewise falls short of the mark. But Jeunet's commentary (in French with English subtitles) overflows with colorful anecdotes that reflect his singular career.
[R] French, Dolby Surround; letterboxed (1.85:1) and anamorphic widescreen; dual layer.
more of this month's reviews Back to Homepage What's New on S&V
LATEST VIDEO
WHERE TECHNOLOGY BECOMES ENTERTAINMENT