DVD Review: Black Snake Moan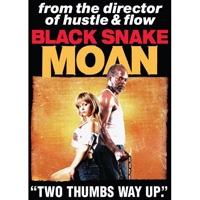 Paramount
---
Movie •••½ Picture •••• Sound •••• Extras •••½
You've got to hand it to writer/director Craig Brewer. While most racially and sexually charged tales from the Deep South strive for gritty realism and easy social commentary,
Black Snake Moan
is lurid, cartoonish, and hell-bent on glorifying as many stereotypes as possible. It's impossible to take your eyes off it, which is lucky, because eventually an entertaining and even heartfelt film emerges. This is Brewer's "blues movie" - a follow-up to 2005's
Hustle & Flow
, his "hip-hop movie" that won an Oscar for its theme song, "It's Hard Out Here for a Pimp" - and it captures the spirit of the blues in a way that Hollywood has never done before. It's not nearly as deep and earthy as the tunes that carry it along, but it'll do.
The music ebbs and flows, sometimes dominating a scene but also dropping back, and it's exquisite in this 5.1-channel mix. (Brewer, a Memphis native, wisely gathered together all the best musicians in that cradle of the blues and cut them loose to create an atmospheric and authentic soundtrack - and he even taught star Samuel L. Jackson to play guitar.) The dialogue and sound effects aren't as detailed as those of many other movies, but that's entirely by design; the music, in tandem with the visuals, tells the tale.
The predictably garish colors of the South are in abundance here, and they're quite effective in this altogether pristine transfer. The picture stays sharp and detailed not only in bright sunlight but also in dim, smoky juke joints, where you can positively feel the heat rising through creaky floorboards. Shot in a combination of location and studio-bound scenes, the film looks seamless here in these rock-solid images.
For a single-disc set, the extras are plentiful. Both the director's commentary and a making-of documentary are informative but offer few surprises. Far better are two shorter featurettes focusing on the music: Rooted in the Blues serves up joyous footage from the recording studio, and The Black Snake Moan delves deeply into a single song and key scene, showing just how all the elements work together. Twelve minutes of deleted and extended scenes offer a few keen insights into the characters, while the photo gallery manages to dwell not too long on the scantily clad Christina Ricci. But then the movie itself takes care of that quite nicely. [R] English, Dolby Digital 5.1 and Dolby Surround; French, Dolby Surround; letterboxed (2.35:1) and anamorphic widescreen; dual layer.
more Entertainment reviews Back to Homepage What's New on S&V
LATEST VIDEO