DVD REVIEW: Babel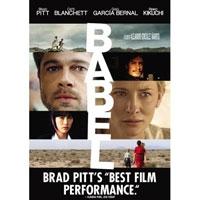 Paramount
---
Movie •••• Picture •••• Sound •••½ Extras None
Babel's awfully serious marketing campaign and seven Oscar nominations herald the arrival of yet another Important Film to DVD. This one, however, doesn't disappoint. Provocative and unpredictable, this latest soul-searching epic from gifted director Alejandro González Iñárritu (21 Grams) manages to tackle big themes without coming off as pretentious or too high-minded.
Although it spans three continents and spotlights exotic locations with abundant outdoor photography, Babel is largely shot in a cinéma verité style - handheld cameras and almost casual compositions - in the modestly wide 1:85:1 ratio. As a result, the disc's consistently sharp images most often accentuate a facial expression or an offhand gesture. Even the large-scale settings, such as the wide-open spaces of Morocco, seem oddly intimate, included more as reflections of the characters' states of mind than as examples of beauty or grandeur.
These creative choices are also reflected in the film's Dolby Digital 5.1 soundtrack, which is clean and solid but generally unspectacular. Only a few scenes, such as the wedding in Mexico and some Tokyo street activity, register substantially in the surround channels. Even so, this dialogue-driven drama is well-served by the generally subdued audio mix.
Only the extras disappoint here - there aren't any - but this may be chalked up to an accelerated release schedule meant to capitalize on all those Oscar nominations; I expect there'll be a more elaborate edition real soon once the winners are announced. English, Dolby Digital 5.1 and Dolby Surround; French, Dolby Digital 5.1, letterboxed (1.85:1); dual layer.
more Entertainment reviews Back to Homepage What's New on S&V