DVD Review: Army of Shadows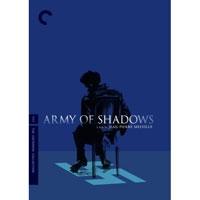 The Criterion Collection
---
Movie •••• Picture •••• Sound •••½ Extras ••••½
Jean-Pierre Melville's 1969 drama of the French Resistance in World War II is somber, absorbing, morally ambiguous, and certainly the director's most personal work. The DVD transfer, supervised by co-cinematographer Pierre Lhomme, conveys the foreboding look throughout with its wintry light, carefully rendered earth tones, and deep blacks. Skin tones and facial details are entirely convincing, and you can make out the stones and wood slats of old, distant buildings.
The mono sound is carefully mixed so that music, effects, and dialogue support each other. I prefer it to the recently created stereo track that's also included on the DVD. The latter adds some aural space (and a directional effect for the dramatic opening shot of the Germans marching in front of the Arc de Triomphe), but there's a general loss of impact.
Film scholar Ginette Vincendeau's commentary on Disc 1 is a sober mix of historical background and artistic analysis. Disc 2 contains plenty of other prime material, too. In recently recorded conversations, Lhomme and editor Françoise Bonnot offer juicy details on the production and on Melville himself, and there are vintage interviews with the director, star Simone Signoret, and André Dewavrin - the Resistance spymaster known as "Colonel Passy," who plays himself in the film. A remarkable 1973 featurette shows Resistance figures thrashing out some of the real-life controversies that haunted the movement, and there's also an amazing filmed-as-it-happened documentary on the 1944 liberation of Paris. [NR] French, Dolby Digital stereo and mono; letterboxed (1.85:1) and anamorphic widescreen; two dual-layer discs.
more Entertainment reviews Back to Homepage What's New on S&V
LATEST VIDEO