DTS Play-Fi Shows Off Its New Friends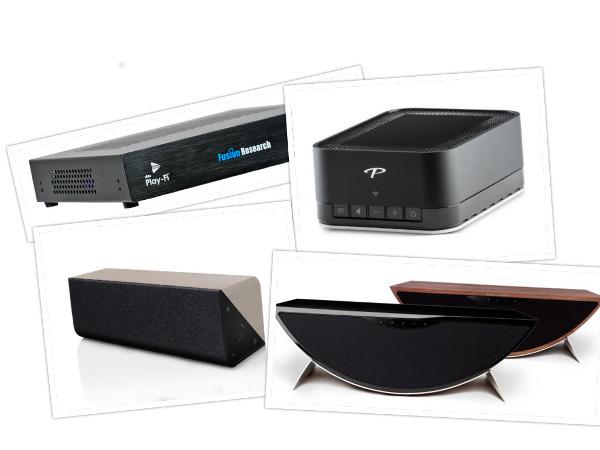 Mention wireless connectivity in consumer electronics and the first names that come up are Bluetooth, AirPlay, DLNA, Wi-Fi, and Sonos. But another player is making major inroads. That's DTS-owned Play-Fi, which spreads lossless audio through a home Wi-Fi network. Since its introduction a few years ago with a handful of modest Phorus-brand speakers, Play-Fi has expanded its partnerships to include some high-profile names in the audio industry, while expanding the functionality of its platform.
New partners MartinLogan, McIntosh, and Paradigm were represented by actual products at a New York press event yesterday—along with existing partners Definitive Technology, Polk, and Wren. Arcam has also begun developing Play-Fi products.
Products demonstrated, shown, or otherwise announced included the MartinLogan Crescendo X (pictured, $1,000) and Bravado ($700) wireless speakers, Motion Vision X five-channel soundbar ($1700), and Forte stereo amp ($600); McIntosh MB50 media streamer (price n/a); Paradigm PW 600 ($599) and PW 800 ($799) speakers and PW Amp (pictured, $499); Definitive Technology W Studio Microbar, possibly the skinniest soundbar we've ever seen ($899); Polk Omni S6 wireless speakers ($350); and Wren V3US wireless speaker (pictured, $399, $449 for battery-powered version). All are shipping in the fourth quarter of this year except for the Paradigm amp and Wren speakers, available in early 2016; and the Def Tech soundbar, available now.
Compatibility with the consumer's streaming service of choice is increasingly crucial in wireless audio products. So it's great news that Play-Fi now supports Tidal's lossless 16-bit streaming. Spotify Connect is also on the guest list, though you'd need to be a premium subscriber for complete integration into the Play-Fi platform.
For Windows PC owners using Spotify's free ad-supported version, there is a loophole you could drive a truck through: Play-Fi is embedded into Windows at the system level, so anything that goes through the operating system goes through Play-Fi. This flexibility also enables Play-Fi to stream, say, YouTube videos, as was demonstrated to the press. Play-Fi's free Windows app streams to one device; the step-up version, for $15, streams to up to four devices, can direct a single stream to Play-Fi devices while keeping other audio within the PC, and offers DTS sound enhancements. In related news, Play-Fi's iOS app has expanded to include Rdio and Rhapsody. Play-Fi also runs on Android devices.
Can Play-Fi speak the language of home automation? It's just starting to, thanks to a recent agreement with Fusion Research, whose Fusion Play-Fi Server (pictured, $999) will make its debut next week at CEDIA Expo in Dallas. This would allow Play-Fi components to be recognized by Crestron, Control4, RTI, and URC systems.
The laundry list of Play-Fi's recent accomplishments pales beside the experience of seeing its recently redesigned app in action as it simply and smoothly juggles devices in a multi-zone, multi-source system. Play-Fi can up to 16 devices, with up to 8 of them simultaneously receiving content, up to 4 zones receiving from a single source, and up to 8 people streaming different content to different speakers from different sources. Incidentally, some Play-Fi products support AirPlay, which is optional in the Play-Fi spec.
Play-Fi seemed like a great idea when it made its debut a few years ago. Now it's a great idea whose time has come.