DTS Play-Fi Gets a Home Theater Upgrade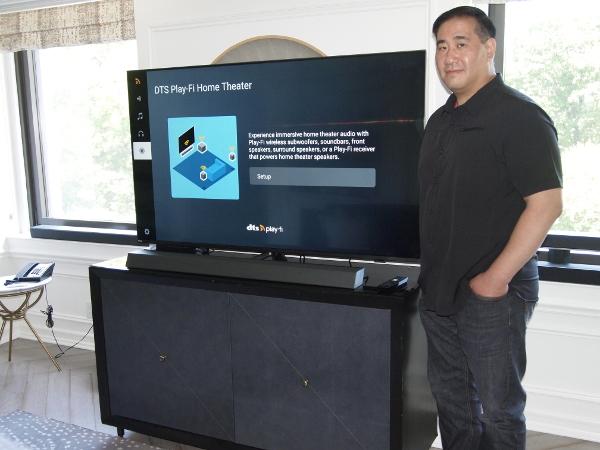 DTS Play-Fi technology, known primarily for home-wide wireless multiroom-audio distribution, is getting a variety of upgrades that could make it a bigger player in wireless home theater.
The Wi-Fi-based platform, which is licensed to more than two dozen CE brands, has added support for up to 7.2.4 channels of surround sound in a soundbar-based home theater system, up from a current 7.1.2, thanks to two new Play-Fi product categories. One category consists of wireless subwoofers equipped with built-in Play-Fi. The other consists of Play-Fi speakers combining up-firing height-channel drivers with traditional front drivers to reproduce rear-surround channels. Products in both categories will be compatible with upcoming Play-Fi soundbars.
DTS's next step is to embed Play-Fi into smart TVs, making it possible for the first time to cut the cable running from a TV to a Play-Fi soundbar — a handy option if you're wall-mounting a TV. Of potentially more significance, Play-Fi TV makes it possible to use separate Play-Fi speakers for the front-left and front-right channels of a home theater, not just for the surround channels, with the TV's built-in speakers delivering center-channel sound.
Previously, Play-Fi speakers could be used only as surrounds in a home theater system, and only when paired with a Play-Fi soundbar, never as part of a discrete five-speaker system.
In another advance, Play-Fi TVs will connect wirelessly to up to two Play-Fi subwoofers at a time, making it possible to create a 5.2-channel system from discrete Play-Fi speakers. In the past, Play-Fi home theaters were not only soundbar-based but limited to a single wireless subwoofer because the subwoofer lacked built-in Play-Fi.
For building a home theater over time, Play-Fi TVs will support previously unavailable options. You could, for example, start by adding one or two Play-Fi subwoofers to complement the TV's built-in speakers, then later add a pair of wireless speakers as surrounds. Two front-channel speakers could be added at a later date.
Play-Fi TVs will be compatible with existing Play-Fi soundbars and speakers if the audio products are controlled through DTS's own Play-Fi app. Compatibility isn't guaranteed if the audio products are controlled by the hardware brand's own Play-Fi app.
Audio Timing
In the U.S., the first Play-Fi audio gear that you can use to build a 7.2.4-channel surround system is due sometime later this year under the Philips Fidelio brand, DTS said. Philips audio is distributed in the U.S. by marketing company TPV USA. The products include the FB1 7.1.2-channel soundbar, which features a pair of up-firing height-channel drivers and Dolby Atmos, DTS:X, and IMAX Enhanced surround decoding.
To get 7.2.4-channel surround, you'll have to add a pair of Philips Fidelio FS1 speakers as surrounds and two Fidelio FW1 subwoofers. The FS1 speakers will be the first Play-Fi speakers in the U.S. with embedded up-firing height-channel drivers and front drivers, and the FW1 subwoofer will be the first Play-Fi subwoofer here.
Additional details and pricing were unavailable.
Play-Fi TV Timing
Play-Fi TVs will come to the U.S. at a later as-yet unspecified date from unspecified brands, but Play-Fi TVs "are definitely coming" here, Play-Fi GM Dannie Lau told Sound & Vision. "We're adding TV partners all the time."
The first Play-Fi TVs went on sale late last year outside the U.S. from Philips-brand licensee TP Vision, and Turkish manufacturer Vestel plans this year to offer Toshiba, JVC, and Hitachi TVs with Play-Fi in the European and Asian markets where it has rights to the brands, Lau said.
Two TV brands that seem likely to offer Play-Fi TVs stateside include Chinese makers Hisense and TCL, both of which have announced intentions to offer Play-Fi soundbars. TCL confirmed to Sound & Vision that it plans to offer two Play-Fi soundbars in the U.S. at an unspecified date, but the company didn't comment on whether it intends to also offer Play-Fi TVs. Hisense also confirmed plans for two Play-Fi soundbars in the fall, one with a 7.1.2 driver layout, and called Play-Fi TV "a feature we are exploring for future models."
There's no word on the Play-Fi plans of companies licensed to sell Toshiba- and JVC-brand TVs in the U.S.
The wait for Play-Fi TVs is due in part to longer lead times in TV manufacturing compared with audio-gear manufacturing, Lau noted. Adding Play-Fi to a Wi-Fi-equipped smart TV is not as simple as downloading an app to the TV, he added.
Other Play-Fi TV features will include:
• Streaming TV audio wirelessly to speakers in up to three other rooms in sync, eliminating room-to-room echoes.
• On-screen displays of metadata and album art from Play-Fi music-streaming services.
• Private TV listening through headphones connected to a smartphone's Play-Fi headphone app.
Future Play-Fi TVs will be compatible with previous generations of Play-Fi audio products, DTS said.
WiSA Alternative
Play-Fi TVs will be similar in concept to TVs certified by the Wireless Speaker and Audio (WiSA) Association as WiSA-ready, but there are differences. One is that WiSA-ready TVs (available from LG and Hisense) require a separately purchased plug-in USB stick that incorporates a WiSA radio. A Play-Fi TV, on the other hand, needs no add-on hardware because it transmits Play-Fi audio over Wi-Fi, which is already built into smart TVs. (WiSA technology can also be added to any TV via an optional HDMI-connected transmitter.)
Both wireless technologies are licensed to multiple CE brands, enabling consumers to mix and match different brands of products in multiroom-audio and home theater systems.
Through the Play-Fi licensing program, DTS supports more than 200 interoperable wireless-audio products bearing more than two dozen home-audio brands. They include Anthem, Arcam, Audiolab, Elite, Integra, Klipsch, MartinLogan, McIntosh, Onkyo, Paradigm, Philips, Phorus, Pioneer, Quad, Rotel, Sonus faber, and SVS. WiSA technology is available through about a dozen audio brands.
More information is available at play-fi.com.