DropLabs 'Engages the Senses' with Vibrating Sneakers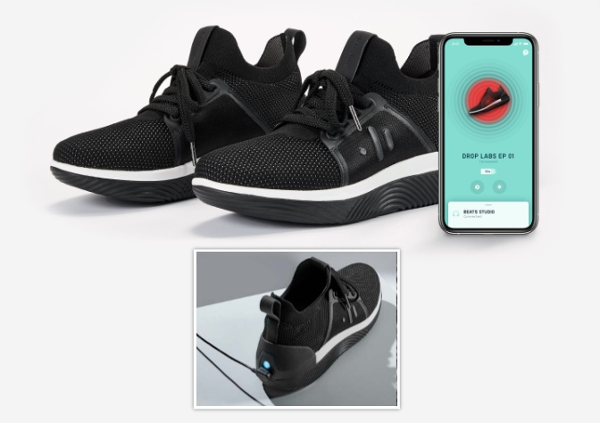 You're an AV aficionado and you've seen it all, right? Well, maybe not…
Los Angeles-based startup DropLabs has created the first-of-its-kind sneaker with patented technology built into its sole that converts audio signals into vibrations so you can feel the music you're listening to on your wireless headphones.
The idea behind the EP 01 sneaker, named for LA's Echo Park where the company is based, is to engage the senses. The signal from your phone is transmitted wirelessly to the sneakers via Bluetooth and remains in sync with what you hear. Actuators in the base of the sneakers stimulate nerve receptors in your feet while you're groovin' to Drake, providing a "range of intensity and feeling throughout your whole body."
Why focus on the feet?
"Our feet have some of the highest concentration of sensory receptors in our bodies," the company explains. "DropLabs taps into this with a completely new sensation that couldn't feel more natural… We aim to make everyday activities — like gaming, listening to music and meditation — more immersive, connecting you more deeply with the world around you."
Rated battery life is 6 hours and the sneakers include an iOS/Android app that provides a vibration-intensity control and battery indicator. The EP 01 "athletic sneakers" are designed to be worn all day — even after the battery dies and the vibro-immersion stops.
An optional gaming package is available that allows users to jack-in directly to the audio source for a low-latency connection.
The technology could hold special appeal for the deaf and those with hearing impairment.
"As a professional deaf dancer, director, and choreographer, I've been connected with music my whole life through the feeling of sound," said Antoine Hunter, an advisory board member for DropLabs. "Before I met (CEO) Susan (Paley) and the DropLabs team, I would blast my music through my speakers so that I could capture the vibrations with my body and commit them to memory to guide my movements.
"With DropLabs, I'm no longer tied to my speakers. The EP 01 has given me the power to go anywhere and feel the beat in my feet, up through my brain and deep into my soul and spirit. This product is truly reimagining the possibilities for how we interact with and hear sound — not just for the deaf community, but for the world."
DropLabs' EP 01 sneaker is available in sizes for men and women and can be pre-ordered now for $549. You didn't think they'd be cheap did you? Shipment is slated for mid-December.
For more information, visit droplabs.com.