Dreaming the Not-Impossible Dream Radio Days
Radio Days
McIntosh Laboratory, Inc. —an Abbreviated History
New York City's Radio Row, the birthplace of America's post-World War II audio industry, is gone. The area, intersected by Manhattan's Cortlandt and Greenwich Streets and the surrounding blocks, that for decades hosted a thriving electronics trade, made way for (and not without a fight) the World Trade Center's Twin Towers. Now they're gone, too.
All of the Radio Row retailers like Heins and Bolet, Leonard's, Harvey's, Rabson's, and Cantor the Cabinet King are also gone, although they live in the memory banks of many native-born baby boomers. And many of the mythical audio brands founded by audio pioneers like Avery Fisher, Hermon Hosmer Scott, Sidney Harman, and others who began by buying army-surplus electronics parts on Radio Row, are either gone or exist in name only, associated with products that have little, if anything, to do with the heritage of the brands that carry their names.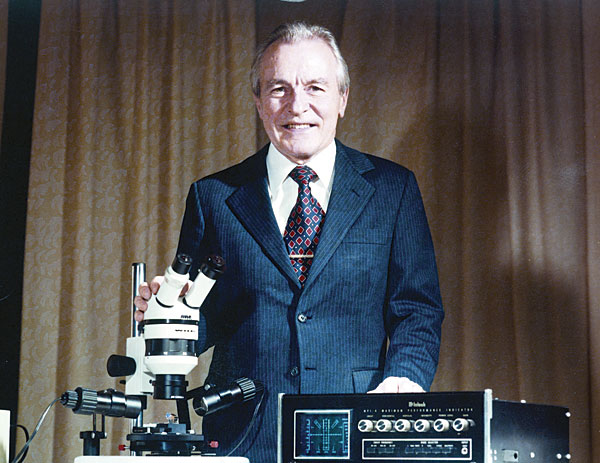 Only against that backdrop can you begin to appreciate what near-mythical addresses like 24 Thorndike St., Cambridge, Massachusetts; or 111 Powdermill Rd., Maynard, Massachusetts; or 2 Chambers St., Binghamton, New York mean to generations of audio buffs.
Once homes to Acoustic Research and H.H. Scott, 24 Thorndike St. and 111 Powdermill Rd. are now generic office spaces. But, 2 Chambers St. in Binghamton is still home to McIntosh Laboratory, Inc. just as it has been since 1956, seven years after its founding by the late Frank McIntosh.
McIntosh was both an accomplished cellist and an electrical engineer who spent eight years at Bell Labs working in the radio division. In 1942, he joined the war effort at both the Radio and Radar divisions of the War Production Board in Washington, D.C., and opened a consulting firm specializing in radio-station and sound-system design. He hired Maurice Painchaud who went from being a draftsman to being responsible for the entire manufacturing process.
A year later, he met and hired Gordon Gow, a Canadian Air Force veteran and MBE (Member of the British Empire) medal winner for his radar-related inventions, to help with the R&D for a new amplifier.
The three went on to form the core of what became McIntosh Laboratory, Inc. In 1951, the company moved to Binghamton. Five years later, in need of more space, the company moved to 2 Chambers St. where it has been ever since. Why Binghamton? It was a center of high tech at the time. IBM was founded in nearby Endicott, New York. General Electric and Link Aviation, builder of the world's first flight simulators, were also close by.
The powerful low-distortion, wide-bandwidth amplifier the company invented and built was initially aimed at the professional broadcasting industry. At the time, consumer hi-fi as we now know it didn't exist. Whether or not you know what a unity-coupled output stage is, it was the team's major invention, and it drove the company's success for more than 50 years.
McIntosh designed and created preamplifiers and, of course, a legendary line of FM tuners. Early in its history, it designed and marketed a line of loudspeakers. Later, it got involved in multichannel sound, digital audio, and even car audio. The Grateful Dead used McIntosh amplifiers on the road, and McIntosh powered the sound system at Woodstock. Celebrity ownership of McIntosh gear dates back to the '50s and continues to this day, from Harold Lloyd to Howard Hughes to The Beatles.
The switch to transistors created challenges for all of the American hi-fi companies, as did competition from Japan. It put some out of business. McIntosh had, and continues to have, a huge fan base in Japan, and in 1990, the company was bought by Clarion, the Japan-based car audio company, at a time when it would have otherwise gone out of business.
Vintage McIntosh tube gear had become highly collectible, so in 1992 the company returned to manufacturing vacuum-tube-based electronics with a commemorative edition of its iconic MC275 amp and, later, a tubed preamplifier.
McIntosh's current president, engineer Charlie Randall, joined the company in 1985 and became president in 2001. D&M Holdings purchased McIntosh from Clarion in 2003. Under Randall's leadership, and with resources provided by its parent, McIntosh is in the midst of a strong resurgence.
That the iconic company still exists, still manufactures at its Binghamton factory, and still does so with the same dedication to the ultrahigh-quality standards of fit 'n' finish and technical and sonic excellence that made the brand a legend, is nothing short of miraculous.
They still wind and pot their own transformers at 2 Chambers St., and they still can and do manufacture the distinctive glass fascia for any product ever built there.
No other consumer electronics company that I can think of has maintained over so many decades such a consistency of classic, industrial design. Return a McIntosh product of any vintage to 2 Chambers St. and it can be repaired and returned to you matching original factory specifications. It seems as if just about every electronic product McIntosh has ever manufactured still has enthusiasts worldwide. —Michael Fremer
(Source: Ken Kessler, McIntosh, McIntosh Laboratory, Inc., 2006)
LATEST VIDEO