Dreaming the Not-Impossible Dream Page 2
The digital and analog audio boards, layout, power supply, and, of course, robust chassis construction—including machined aluminum side panels and the distinctive industrial design are pure McIntosh. Most Home Theater readers already know that, regardless of brand, everyone throughout the industry buys from a short list of audio and video-chip manufacturers. The key is in how the chips are implemented.
The three-zone MX121 includes all of the basics you'd expect in a modern, surround-sound processor, such as a phono preamplifier (sorry, I couldn't help myself); six HDMI 1.4a inputs (with 3D passthrough, Deep Color, etc.) and two outputs, as well as multiple component- and composite-video inputs; 192/24 DACs, Audyssey MultEQ XT room correction and DSX surround processing, and the full suite of Dolby and DTS decoding; and Internet radio (here named radiomcintosh.com), Flickr online photo gallery, Pandora (free), Last.fm (paid subscription), and streaming from a Windows-based media server. The McIntosh also incorporates the same USB-based iPod control system and adapter Marantz uses in the AV7005, along with Apple's AirPlay that allows you to wirelessly stream from your the iTunes library on your computer or iOS device.
However, the MX121 features neither an AM/FM or HD radio tuner nor SiriusXM ports. In addition (or should I say in subtraction), there's no headphone jack or any front-panel connectivity. Even the USB port is in the rear. Still, in a cluttered-panel world, the MX121's fascia is a model of operational and aesthetic clarity (as are the well-produced manual and accompanying large, fold-out graphics. They prove that it is possible to explain the setup and workings of a complex piece of gear in straightforward, easy-to-understand terms).
The rear panel includes nine balanced preamp outputs (including two sub outs), a pair of balanced inputs, 12 single-ended outputs that include height and width channels, and a 7.1-channel analog input, as well as eight stereo-analog inputs.
MVP891 Audio/Video Player
Like the MX121, the $5,500 MVP891 universal A/V player is, I suspect, very loosely based on components sourced from within the D&M Holdings family, perhaps using Denon's transport—but that's just a guess.
It handles Blu-ray and DVD as well as CD, DVD-Audio, and SACD, along with an alphabet soup of subsidiary formats. Purists take note: For SACD playback, the DSD signal on the disc is converted to PCM for HDMI output; decoding for the analog outputs is handled on board.
Like the MX121, the MVP891 is not a repackaged anything. Rather, it uses the transport and other control components from the sourced player, with McIntosh implementing its own engineering both for the software-based functionality and digital- and analog-audio engineering.

The MVP891 uses Anchor Bay Technologies VRS ABT-2015 video processing, Analog Devices 12-bit/297MHz video D/A conversion with noise-shaped video processing, and digital noise reduction. The player includes five two-channel, 192khz/32-bit audio D/A converters. Multichannel audio information can be output digitally via HDMI or as analog audio via either the multichannel analog outputs, or mixed down to two channels and output through the balanced stereo outputs.
A front-panel USB port can accept WMA, MP3, and AAC files, and can also be used for BD-Live and Bonus View modes when the player's internal memory proves insufficient. (The internal memory capacity is specified as 1 GB). There is no onboard Internet streaming platforms. Like the MX121's remote, the plastic one supplied for the MVP891 is functional but nothing special or luxurious.
MC8207 Seven-Channel Power Amplifier
McIntosh began as an amplifier company and built its reputation from its innovation and expertise in this field. Weighing in at 81 pounds, the $6,000 MC8207 is a hefty, high-powered amplifier that's claimed to output 200 watts RMS per channel with all channels driven; no fudging, no asterisks. With its large, dramatic, triple LED-based front-panel meters, it's easily the most impressive looking of the three pieces of electronics.
The MC8207 appears outwardly to be very similar to the $8,500 MC207 except for the LED-based digital meters substituting for McIntosh's trademarked analog ones. In addition, the MC207's polished stainless steel chassis gives way here to a black, anodized one. These minor changes result in a not insignificant, $2,500 savings. The generous back-panel real estate makes speaker connection to the chunky binding posts convenient and easy.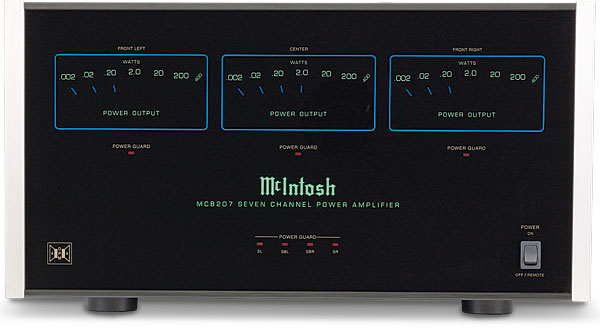 XR100 Loudspeaker System
McIntosh's reputation was built on electronics, not loudspeakers, although the company has been building them for decades with varying degrees of commercial and critical success.
The sleek-looking, $10,000/pair XR100's are nearly full-range (claimed 30Hz-45kHz) floorstanders. Rather than using the classic configuration of one or two large woofers, one 4- or 5-inch midrange speaker, and a tweeter, this four-way design utilizes four 6-inch woofers, ten 2-inch midrange drivers split into two groups, and a single tweeter.
Smaller, lower-mass drivers may have advantages when properly implemented in a speaker, including the ability to move more quickly than a larger, higher-mass driver. However, unless the multiple drivers are perfectly matched, always on the same page (so to speak), and the radiation patterns carefully controlled to prevent interference, the sound can be fast, but discontinuous.
Centering the tweeter within the symmetrical midrange array produces a quasi-coaxial, mid/high-frequency drive system, but the design goes one step further. Two clusters of four drivers located above and below the tweeter handle the midrange's lower two octaves, while a pair located just above and below the tweeter handle the upper two octaves. The result of this MTM (midrange-tweeter-midrange) arrangement, McIntosh claims, is wide horizontal dispersion and stable imaging throughout the upper mids.
The custom-built drivers feature sophisticated engineering. The die-cast- basket, polypropylene-coned, rubber surround woofers feature McIntosh's patented distortion-reducing LD/HP technology. This uses a pair of aluminum shorting rings in the voice-coil construction to produce more linear magnetic flux in the magnetic gap in which the four-layer copper voice coil moves, and thus a claimed 10 times lower distortion compared to previous designs.
Both the tweeter and midrange diaphragms are made of light, stiff titanium and use neodymium-alloy magnets that are said to have the highest flux density per unit of volume. The drivers are protected with an automatically resetting protection circuit should you get carried away.
The second-order crossover network utilizes high-quality, carefully matched components, while the slim, rear-ported, heavily braced enclosure construction features non- parallel, internal sides to reduce standing waves.
Dual pairs of McIntosh's chunky, nonslip binding posts allow for biwiring or biamping. This truly superior binding-post design deserves full coverage that this space won't allow.
The sleek, attractive, high-gloss cabinets are finished in a choice of Piano Black, Pear Maple, or Red Walnut. The supplied grille frames provide a front cover if you don't like the multiple midrange driver "spider-eyes" look.
LATEST VIDEO