Doctor Strange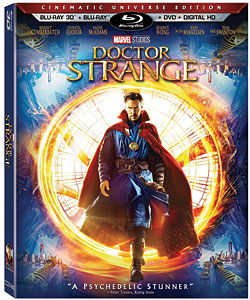 Doctor Strange puts a dark twist on Marvel's Cinematic Universe, delving into the mystical rather than the superpowered. The visuals, oftentimes reminiscent of Inception, offer the wow factor that helps keep viewers entertained, but it is the performances of the stellar cast that help propel the film, including a wonderful Chiwetel Ejiofor as Strange's colleague in sorcery and the menacing Mads Mikkelsen, who does more with his villainous character than he's given on the page.
Doctor Strange was shot in numerous formats ranging from 3.4K and 6.5K on a number of Arri digital cameras to Super 35 film on Panavision cameras. None of the formats involved were native 3D, so this MVC 1080p encodement on Blu-ray 3D framed at 2.39:1 is a conversion. It is one of the better conversions I've seen, which isn't surprising given the film is mostly CGI. It offers an amazing sense of depth, some good pop-out, and very little crosstalk on my OLED display.
Disney offers a staggering DTS-HD Master Audio 7.1 mix that rocks the walls, shakes the floorboards, and sets the roof on fire. It will definitely make you think something's exploding in your house with its aggressive spread of discrete sounds and deep extension of low-end frequencies in the sub. It accomplishes all of this while keeping the dialogue clean and intelligible.
You'll want to watch the hour-long collection of making-of featurettes (HD) covering everything from the score to the casting. The director audio commentary is also a good bet. Additionally, the set comes with DisneyMovies Anywhere, which is Digital HD that can be played on practically any provider including Vudu, iTunes, and Google Play.
Blu-Ray 3D
Studio: Disney, 2016
Aspect Ratio: 2.39:1
Audio Format: DTS-HD Master Audio 7.1
Length: 115 mins.
MPAA Rating: PG-13
Director: Scott Derrickson
Starring: Benedict Cumberbatch, Chiwetel Ejiofor, Rachel McAdams
Marvel explores its mystical side is in this mind-bending, psychedelic entry in the Marvel Cinematic Universe directed by Scott Derrickson. Benedict Cumberbatch plays brilliant but egotistical neurosurgeon Dr. Stephen Strange, who loses the use of his hands, and subsequently his career, when he crashes his supercar. Strange travels to Kathmandu seeking a supernatural cure for his injuries. There, an immortal sorceress, the Ancient One (Tilda Swinton), accepts him as her pupil, trains him in the mystic arts, and turns him into a powerful sorcerer. Strange finds himself drawn into a battle between the Ancient One and her powerful nemesis, who wants to open a barrier between the Dark Dimension, from whence mystical powers are drawn, and our current world, putting both dimensions in jeopardy.