Dinner for Schmucks (Blu-ray)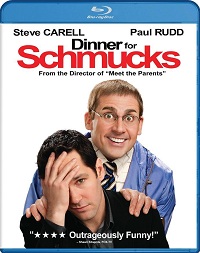 Tim (Paul Rudd) is a rising executive who can fast-track his career by participating in his boss's exclusive dinner party, at which the winning executive brings the biggest buffoon. Enter Barry (Steve Carell), an IRS agent with a unique hobby of creating dioramas with dead mice.
What passes for a successful comedy these days make me question my sense of humor, but I actually enjoyed this one. Rudd and Carell have great chemistry, and thankfully the elaborate dinner party is a very small part of the story with the screenplay concentrating on the budding relationship between the two leads.
Video Highlights

AVC/1080p encode on a BD-50 disc
Bold color palette
Inky blacks
Excellent resolution and fine detail
Audio Highlights

DTS-HD MA 5.1 soundtrack
Tepid dynamics
Front-heavy track
Occasional surround envelopment
Intelligible dialog
The video quality is quite good with loads of detail in clothing and in facial textures, but the audio track is extremely laidback with its dialog-intensive soundtrack.
Bonus Materials

The Biggest Schmucks in the World: Behind the scenes with the cast (HD)
Deleted Scenes (HD)
The man Behind the Mouseterpieces: Bringing Barry's Dioramas to life (HD)
Outtakes (HD)
Meet the Winners featurette
Paul and Steve: The Decision featurette
At 114 minutes the screenplay has a tendency to drag at times, but the payoff is worth it in the end. The video presentation is very good although the audio rarely offers anything groundbreaking. I would definitely give this one a rent if you're looking for a good comedy.
Release Date: January 4, 2011
Studio: DreamWorks
Movie: 7/10
Picture: 9/10
Sound: 7/10

Review System
Source
Oppo BDP-93 Blu-ray player

Display
JVC DLA-RS1 projector
Stewart FireHawk screen (76.5" wide, 16:9)
Electronics
Integra DTC-80.2 pre/pro
Anthem PVA-7 power amplifier
Belkin PVA-PF60 power conditioner
Speakers
M&K S-150s (L, C, R)
M&K SS-150s (LS, RS, SBL, SBR)
SVS PC-Ultra subwoofer
Cables
Monoprice HDMI cables (source to pre/pro)
Best Deal analog-audio cables
PureLink HDC Fiber Optic HDMI Cable System (15 meters) from pre/pro to projector

Acoustical treatments from GIK Acoustics
LATEST VIDEO