The Diary of Anne Frank (Blu-ray)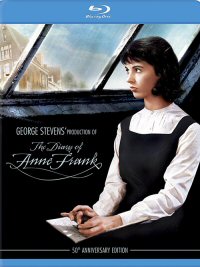 Following the Nazi invasion of Amsterdam, 13-year-old Anne Frank (Millie Perkins) and her family go into hiding in the confines of an attic. Anne's remarkable account of their lives, their growing fear of discovery, and even the blooming of her first love, are intimately depicted in this extraordinary portrait of humanity.
I hadn't seen this film since I was in grammar school, but I remembered the profound impact it had on me at the time. The harrowing tale of Anne is just one of millions that could be told from the Holocaust, and it pains me to think there are people in this world who denied it ever happened. Thankfully, Anne had her trusty diary and recorded her thoughts, immortalizing her family's plight. Director George Stevens cast an unknown girl, Millie Perkins, in the lead role and coaxed a commendable performance out of the newcomer.
The AVC encode is very good, but there's only so much that can be done with a 50-year-old print. Film damage is occasionally an issue with some specks and dots flashing on the screen, and the picture can look rather grainy, which isn't a complaint, just an observation. Detail is good at the center of the image, but it's a bit soft around the edges, and background detail is blurred. Overall, the depth isn't as good as I've seen on older black-and-white films, particularly Casablanca, but given its age, I think most viewers will be pleased.
The DTS-HD MA 5.1 soundtrack is very front-loaded and collapsed toward the center—as expected given its mono roots. Dialog is mostly clear and intelligible, although there are a few moments when some ambient noise and the score drown out the words, but these are rare in the nearly three-hour film. My biggest compliment is how silent the track is in the quiet passages, something that isn't always the case with older films.
This 50th Anniversary Edition is loaded with bonus features, including an audio commentary from the director's son and Millie Perkins, a boatload of behind-the-scenes featurettes, some vintage movie promos, the theatrical trailer, and some image galleries. While none of the featurettes are in HD, at least they are widescreen.
This is a great film to show school-age children so they understand the harrowing environment created by the Nazis. The presentation is solid for such an old film, and the plethora of supplements will satisfy film buffs. Highly recommended.
Release Date:June 23, 2009
Studio: Fox
Movie: 9/10
Picture: 8/10
Sound: 7/10

Review System
Source
Oppo BDP-83 Blu-ray player

Display
JVC DLA-RS1 projector
Stewart FireHawk screen (76.5" wide, 16:9)
Electronics
Onkyo Pro PR-SC885 pre/pro
Anthem PVA-7 power amplifier
Belkin PF60 power conditioner
Speakers
M&K S-150s (L, C, R)
M&K SS-150s (LS, RS, SBL, SBR)
SVS PC-Ultra subwoofer
Cables
Monoprice HDMI cables (source to pre/pro)
Best Deal analog-audio cables
PureLink HDC Fiber Optic HDMI Cable System (15 meters) from pre/pro to projector

Acoustical treatments from GIK Acoustics
LATEST VIDEO