Designer Sound
For a bold statement, the designer loudspeakers from NACSound will surely get noticed and compliment the most daring contemporary dcors. Direct from Italy, these handmade custom speakers are distributed in the US and Canada by Sonance, a leader in custom hidden solutions for loudspeakers. The NACSound for Sonance speakers are hardly meant to be hidden and in fact, should be prominently displayed.
There are three distinct models, the Omni (shown in the image above), the Zemi, and the most recent introduction is the Kayak.
The elegant Omni may look like metal but it's a ceramic bodied speaker, which uses NACSound's special omni-directional technology with a 1.1" silk tweeter, a 5.7" woofer in molded aluminum, and a central hardwood reflector. The statuesque speaker is slightly shorter than a yard but is heafty at 16 pounds. It is rated with a power handling of 70W with a sensitivity of 86dB. If you don't want to hang it, the Omni is available with a stand as an option. It is also available in a variety of colors and finishes including Blue-Gold, Platinum Fusion, Copper Reflection, Graphite, Black, or several other custom finishes.
The Zemi, is a sphere shaped ceramic speaker that can either be suspended from the ceiling or placed on any convenient surface in its own holder. Zemi uses NACSound's patented central ceramic reflex technology. A variable section pipe passes through the sphere to create what the company calls "a high quality and natural sound with exceptional clarity of image." It uses the same two drivers as the Omni with the same rated output. The Zemi fits well into any home environment, and when configured with multiple Zemi's and a pair of Omni speakers, it can be used in a home theater setting. The Zemi comes standard in Graphite and Platinum Fusion, in addition to a variety of unique custom finishes and colors.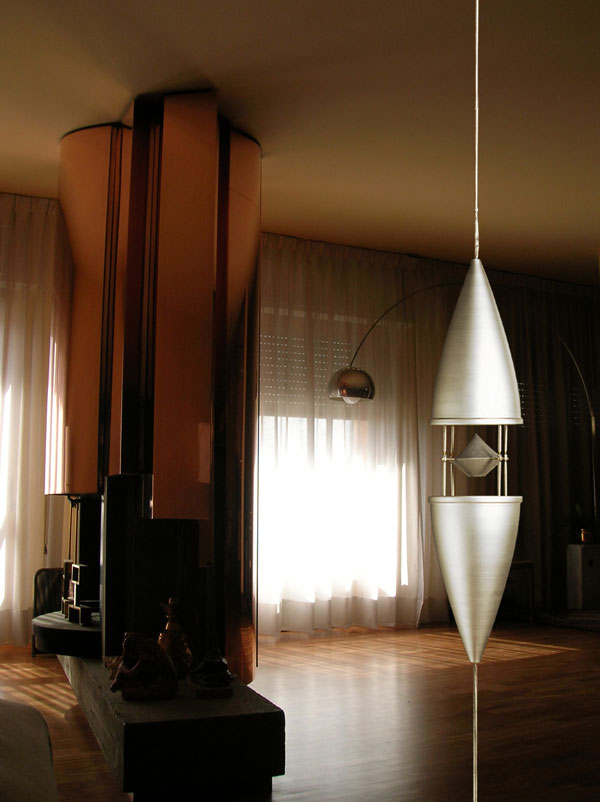 The Kayak is a single-source stereo loudspeaker, which can be suspended vertically or horizontally. The Kayak utilizes elements of both omnidirectional and multidimensional sound reproduction to produce a stereo effect in either orientation. It features dual coaxial driver arrays housed in opposing cone enclosures that fire into a central computer-derived acoustic reflector that is engineered to deliver surprisingly good stereo imaging from a single source.
Like all NACSound for Sonance speakers, the Kayak is handcrafted and available in 14 finishes using the company's exclusive ceramic-coating process. Finishes include both solid gloss and matte as well as more complex, fine-art effects individually created for each speaker.
Speakers as objects of art don't come cheap but they sure know how to dress up a room. The Zemi starts around $2900, with the Omni topping out at $11,500. The Kayak starts at $8700.