Denon Previews New Heos/AirPlay 2-Compatible Wireless Speakers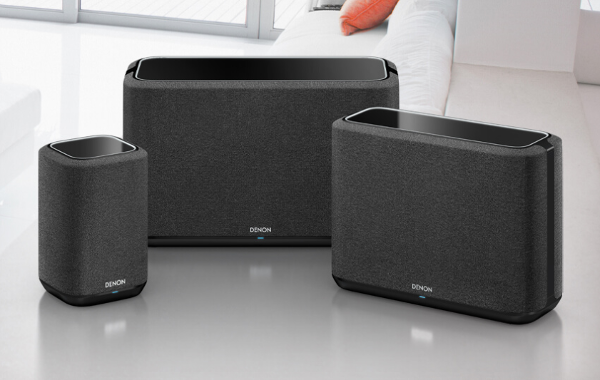 Denon today previewed a new series of compact speakers that incorporates its high-resolution-capable Heos wireless multiroom platform and supports streaming via Apple's AirPlay 2 and Bluetooth.
Slated to ship by March of next year, the Denon Home series comprises three Wi-Fi-based speakers — the Denon Home 350 ($699), 250 ($499), and 150 ($249) — that provide access to a number of streaming options through the Heos app. Supported services include Amazon Music HD, Spotify, Apple Music, Pandora, Tidal, and TuneIn internet radio.
The speakers support gapless playback of 192-kHz/24-bit FLAC, WAV, and ALAC files plus DSD 2.8/5.6MHz files and can stream hi-res audio files stored on USB drives and phones over a home's Wi-Fi network to multiple Heos-enabled devices in different rooms.
Described as easy to set up, the speakers can be networked with Heos-enabled AV receivers, soundbars, and network audio players to stream different music or play as a group in a multiroom setting and are equipped with USB and 3.5mm minijack inputs in addition to dual microphones to support voice assistants in the future. Denon said the microphones are disabled but can be activated when a firmware update enabling voice functionality is released next year. An RJ-45 jack is also included for wired network connection.
Conceived as a primary music source in larger rooms, the Denon Home 350 (middle in photo above) has six quick select buttons and packs a six-channel amplifier and six drivers in an 18.5-inch-wide cabinet: two 0.75-inch soft-dome tweeters, two 2-inch mid-bass drivers, and a pair of 6.5-inch woofers. Two 350 speakers can be set up as a stereo pair or as rear surrounds in a Heos-based home theater setup with Denon's DHT-S716H soundbar and DSW-1H subwoofer.
The Denon Home 250 (right in photo) packs a four-channel amplifier plus two 0.75-inch soft-dome tweeters, a pair of 4-inch woofers, and a 5.25-inch bass radiator in an 11.6-inch-wide cabinet with three quick select buttons.
Measuring 4.7 x 7.4 x 4.7 inches, the Denon Home 250 (left in photo) is the smallest speaker in the series. It teams the same 1-inch tweeter used in the other models with a 3.5-inch woofer and provides three quick select buttons.
All models are available in black or white and the 250 and 150 can also be set up as stereo pairs.
For more information visit usa.denon.com.