Denon HEOS AVR A/V Receiver Review
PRICE
$999
AT A GLANCE
Plus
App-driven HEOS eco-system
Up to 5.1 channels
Wireless HEOS surround and sub options
Minus
Nearly no front-panel controls
No low-volume mode
No Dolby Atmos or DTS:X
THE VERDICT
The Denon HEOS AVR reimagines the black-box receiver as a sleek, shapely, app-driven beauty that leverages the home network to provide wireless sub and surrounds.
Having successfully developed their own wireless ecosystem under the HEOS brand, Denon is using it to reinvent the audio/video receiver. What the company calls the HEOS AVR departs from the black-box norm by offering suave dove-gray aluminum as an optional alternative to the usual black. It isn't a box, either, or at least not a pure rectangular solid, thanks to a diagonally split, convex front panel. Whereas other A/V receivers wear lots of buttons or conceal them behind a flip-down door, the HEOS AVR has a front panel that's pointedly devoid of any controls except a large metal volume dial. And in lieu of a front-panel display, it has only a large horizontal LED stripe in the HEOS style for volume and status. This isn't just another receiver. It's a deliberate provocation.
The madness to this method, Denon says, is its attempt to create a modern-day alternative to the complex (and sales-stagnant) traditional AVR that has been losing ground to the convenience and simplicity of soundbars. It's hoped that a next-generation AVR, offering both wired and wireless setup flexibility (more on that later) and less complexity of operation, can bridge the gap while delivering a true 5.1channel surround experience and more robust sound quality. As you'll see, in trying to do so, the HEOS AVR eschews both the aesthetic and much of the feature-load of traditional A/V receivers. But that's all in the plan.
Just Enough Jacks
Back-panel connectivity is rigorously limited. There are just enough speaker terminals to support the five amplifier channels—no back surrounds, no height channels, no biamping. A/V sources enter by HDMI or not at all—no composite or other legacy video jacks. The policy for audio sources is slightly less draconian, with two digital and two analog. The sole line-audio output is the sub out, though if you use the wireless HEOS Subwoofer, you won't need it. (See our dedicated review in the sidebar) There are no AM/FM tuners (no need on a streaming AVR, Denon says), nor is there a headphone jack. The IR input jack is the only concession to custom installation.

Like most other A/V receivers, this one can be set up in 5.1, 3.1, 2.1, or 2.0 modes. It doesn't support 7.1 (with back surrounds) or the new Dolby Atmos and DTS:X height-enhanced modes. However, it does support lossless DTS-HD Master Audio and Dolby TrueHD, as well as highresolution audio in FLAC or WAV up to 192/24 and ALAC up to 96/24. Listening modes include much of what you'd expect in a receiver, such as the Dolby Pro Logic II Music and Movie modes and the DTS Neo:6 music and cinema modes, as well as direct, stereo, multichannel stereo, and generic virtual surround (but none of the commonly found lowvolume listening modes). Video processing supports 4K passthrough (but no scaling of any kind), HDR10 high dynamic range, 4:4:4 color subsampling, and BT.2020 color gamut; Dolby Vision HDR passthrough will be added via firmware update later this year.
Eighteen different music options are available through the HEOS App. Eleven of them are music services: Spotify, Tidal, Amazon Music, Pandora, Deezer, Napster, Rhapsody, SiriusXM, and SoundCloud, along with iHeartRadio, which aggregates more than 800 U.S. radio stations, and TuneIn, which aggregates net radio stations from around the world. You can also select music from This Phone (the phone or tablet running the app), Music Servers (computers and other DLNA networked devices), USB Music (drives, not computers), Playlists, History, Favorites, or Inputs (any of the receiver's HDMI or other inputs as well as inputs on any HEOS-connected device). I could file this under Call Me Picky, but I would have liked the USB jacks to accept direct input from a PC; if you're designing the receiver of the future, go there. Certain readers among us who own six different pressings of "The White Album" might also want a phono input.
On its own terms, the HEOS AVR does an amazing amount, but in some ways, it may confound the expectations of an A/V receiver veteran. There's no auto setup—though the app's setup assistant substitutes for much of that—and no room correction. But if you need to tweak, basic bass and treble controls are just a step away from the play menus. The small remote handles power, input, volume, mute, and basic transport controls—that's all. You can't access a TV-screen interface from the remote. And remember: If you lose the remote, there are no front-panel buttons to fall back on; you'll be totally dependent on the app.
You can't pick listening modes directly from the remote, though you can access six Quick Select presets that combine input and listening mode for the HDMI and optical inputs, and you can edit the settings. You can't access advanced settings when your mobile device has run down, but you can install the HEOS App on an extra device, as I did.
As of September, around the time you might read this, Denon will also add via a firmware update native support for the new Alexa Smart Home Entertainment skill set. Assuming an Amazon Dot, Echo, or other Alexa-enabled device somewhere in your network to provide for voice access, this will allow the use of speaking commands to control some basic operations. The exact command set was not settled at press time but was expected to include such things as volume up/down, mute, transport control, and input switching.
For this review of the HEOS AVR, we assembled a 5.1-channel system that included the HEOS Subwoofer and a pair of the previously reviewed HEOS 1 active wireless speakers (June 2016 issue and soundandvision.com) in the surround positions. All are packaged with showmanship, featuring sturdy, colorful boxes and heavy packing material; the HEOS Subwoofer even has the HEOS name and logo die-cut into a protective corrugated cardboard panel. If the unpacking experience is important to you, you'll be favorably impressed.
App-Driven Setup
When I set up a conventional A/V receiver with passive speakers and an active sub, I connect all speakers and components, run the auto setup, manually tweak a few settings in the TV-screen interface, make a wired or wireless network connection, and start listening. Setting up the HEOS AVR is different. Its central organizing principle is the HEOS App. Setup does require a dive into a graphic user interface—but on your tablet or phone, not your TV screen.
The first order of business was to connect the AVR, sub, and surrounds to the network. My initial crack at the AVR was unsuccessful, even after system resets, possibly because I had confused it by plugging it in and letting it twist in the wind for 24 hours. I unplugged it and turned my attention to the HEOS Subwoofer and the HEOS 1 pair. After connecting an Android tablet's headphone jack to each of their aux inputs—which provides a data (not analog audio) connection—I followed the app's prompts, typed in the network password, and named them Sub,
Left Surround, and Right Surround (though their system assignments came later). The app mercifully remembered the network password after the first go-round. It offered "optimized" settings for the sub and surround that covered crossover, gain, and volume curve in an undisclosed proprietary manner. Its default crossover for the three front speakers was 80 hertz, a good choice for my Paradigms.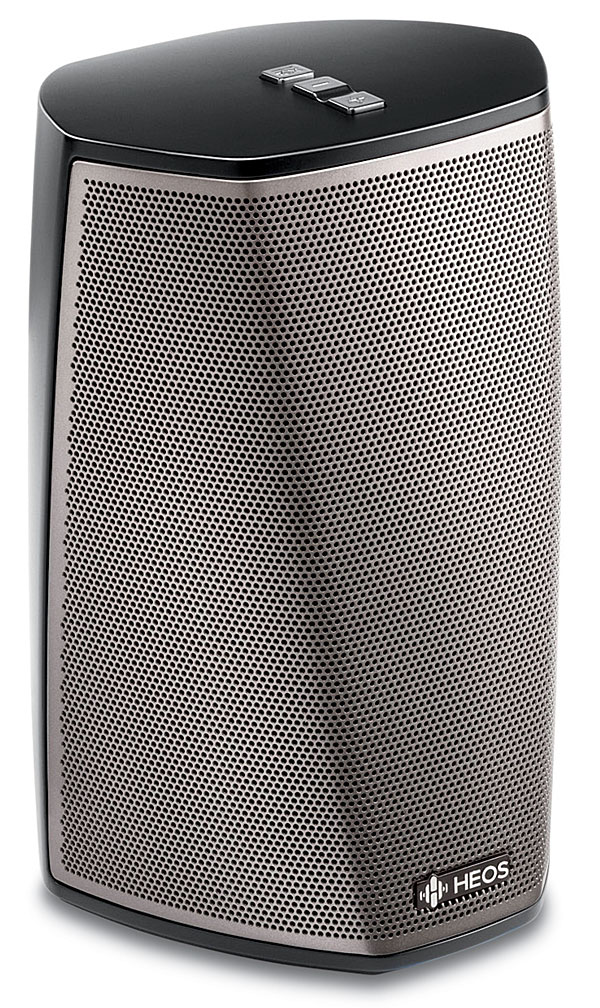 With the sub and surrounds connected and their software updated, I returned to the AVR—which, after its coffee break, was amenable to receiving the network connection and software update. (I learned later from Denon that the AVR goes into deep sleep to save energy when it can't find a network and would have woken up and accepted connection with any button press on the remote. The company is said to be working on a new setup routine due later this year, in any event.) Once the AVR was recognized on the app's device list, along with the sub and surrounds, I was able to use the set-up assistant to assign the HEOS Subwoofer as sub and the HEOS 1 pair as surrounds. The setup assistant might also have stepped me through the TV and input connections, but as an old-fashioned receiver guy, I had already done them—and they worked.
I'd wondered how the app would let me access the things I'd normally tinker with in a receiver interface. The answer lay in the My Devices/HEOS AVR menu, where a Speakers submenu allowed access to crossovers, sub phase, levels, distances, and impedance compatibility settings. One problem: Although I pecked away to trigger the test tone and set levels, the app barely responded. The Android tablet had never had touch-sensitivity issues with other software, so the unresponsiveness must have been a bug in the Android app and its interaction with the network and system. On an iPad, the submenu was more functional, albeit slow, as settings wormed through the network. But I finally had a shiny new HEOS system ripe for listening.