Denon DBP-4010UDCI Blu-ray Player Page 3
Things improve considerably once you've completed the initial setup, but this player is slow to boot up discs, especially Javaintensive Blu-rays, compared with many other players on the market. The Denon took about half a minute longer to boot up Disney's Up than my reference OPPO BDP-83. That's bothersome but borderline tolerable. But when you throw in one of Fox's recent discs (Fantastic Mr. Fox or Avatar), you'll have time to devote to your other hobbies. While my OPPO loaded these discs in less than a minute and a half, the Denon clocked in at nearly three minutes. This aspect of the DBP-4010UDCI's ergonomic performance frustrated me every day I used it. And I'm not the only one. As we were waiting for Fantastic Mr. Fox to load the first night (of many) that we watched it, my anxious five-year-old asked me why it was taking so long. Many manufacturers are much farther ahead on this front, and I'd like to see Denon catch up. It's also challenging to navigate once discs are playing. The reaction time on some commands is slow enough that I often found myself hitting the key again. This resulted in the Denon performing the two commands back to back once the player caught up—like skipping two chapters ahead instead of one. My reference OPPO BDP-83 is swifter and more surefooted. On the plus side, I never had any significant playback issues with any Bluray Disc. Avatar came out right as we were going to press. While the player required a firmware update, it was smooth sailing once that was done over the network. The chunky remote is a winner. It's backlit, easy to use in a dark room, and has all the goods.
Video Performance
On our Video Test Bench, the DBP-4010UDCI turned in performance very similar but not quite identical to other players we've tested with Anchor Bay solutions. It sailed through the bulk of our tests, which indicates that you can expect excellent, full-resolution performance from Blu-ray Discs and DVDs alike. It only hiccupped with standard-definition 2:2 cadences. This will only affect some DVD material. But it's odd given that OPPO's BDP-83, which also uses an Anchor Bay solution, passes this test. Still, I wouldn't hesitate to vouch for the Denon's video-processing performance.
Moving on to native high-def program material on Blu-ray over HDMI, the Denon is as rock solid as anything I've yet seen. Regardless of the disc, this player revealed every ounce of detail in every transfer I watched, whether it was the fur and other small details in Fantastic Mr. Fox or the finely grained film-like textures in Minority Report. Further, its performance with DVDs, even at 1080p/24, was also superb. Artifacts were minimal, and the imagery was as sharp and detailed as the program material allowed. This player will make the most of your legacy DVDs and Blu-rays. As I always do in BD player reviews, I caution that this level of superb video performance over HDMI is also available in entrylevel and midrange-priced players with premium processing solutions. Still, this player gets it done with all types of discs.
Audio Performance: The Money Shot?
I compared this player directly with OPPO's highly regarded BDP-83SE ($899), reviewed in HT's April 2010 issue, in a purist setup with an Audio Research Reference 5 two-channel preamplifier and identical runs of AudioQuest Sky interconnect. The OPPO was very impressive and held its own, but I ultimately preferred the Denon's warmer, richer sound and its higher resolution of detail with my SACDs. When I listened to Wilco's cleverly titled Wilco (The Album) on CD, both players rendered the string sounds clearly, but the Denon got more of the body of the instruments and a bit more texture from front man Jeff Tweedy's slightly sandpapery vocal. With my SACDs, the Denon seemed to open up more inner detail and widened the gap between redbook CDs and high resolution more than the admittedly excellent Special Edition OPPO. Tonally, the two players are quite different. I thought the Denon sounded a little more convincingly like musical performances and a little less like good playback. So there's some fuel for you "bits are bits, all digital sounds the same" people. Send your feedback to HTLetters@sorc.com.
There's obviously a larger gap in price between the Denon and the OPPO BDP-83SE than there is in performance. Same as it ever was. In high-end audio, incremental increases in performance have nearly always required more than incremental increases in expenditure. But know too that better analog audio performance than this Denon will likely cost a lot more still.
Conclusion
Denon's DBP-4010UDCI is expensive and slow enough to perturb a serial movie watcher like myself. Beyond that, it does everything it claims to do and does it so extremely well that it's beyond reproach in all aspects of pure performance. But the BD player market moves so fast, it makes me want to throw up my hands and wait five minutes to see if things change again. As this review was nearly complete, Denon announced two new 3Dready universal Blu-ray players that cost less, include streaming features, and will be in stores by August. While I have no doubt that the DBP-4010UDCI will satisfy the old-school audiophiles out there who prioritize pure performance, especially with analog audio, I just can't recommend spending this kind of coin when the next big thing has already been announced, looks so attractive, and is just a month or two away.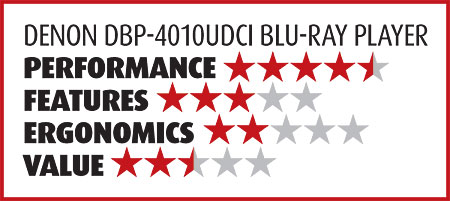 LATEST VIDEO