Denon DBP-4010UDCI Blu-ray Player Page 2
Like the flagship, this player includes an Ethernet connection for BD-Live and network firmware updates, but it eschews the networking and streaming features that are common in much cheaper players. While I'd wager that most people who want an upscale player like this one are fine with that, I still wonder whether people shouldn't expect to have their cake and eat it too at this price.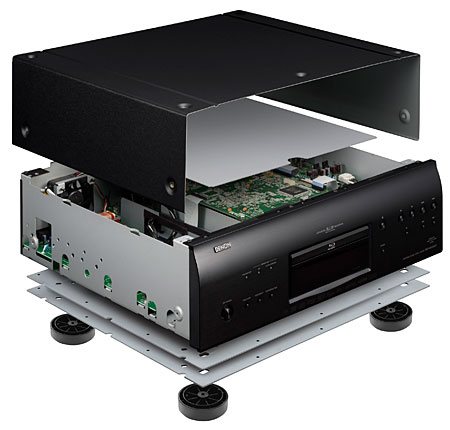 Unlike the Flagship
Here's a quick comparison that outlines the smart choices Denon made to get this player in at this price. The HQV Realta processing solution in the big player is replaced here by an Anchor Bay solution that generally has tested as well as anything that's come across our Video Test Bench. The flagship also came with dual HDMI outputs that allowed the patently purist approach of using a direct video-only HDMI connection to the display and an audio-only HDMI connection to an AVR or surround processor. In my system, the DVD-A1UDCI's direct video connection didn't yield any noticeable improvement, so I didn't use it. Further, our testing of scores of A/V receivers and surround processors suggest that lossless HDMI video passthrough is fairly common.
On the audio side, the flagship has an Audio Restorer that comes to the aid of compressed digital audio. It uses 32-bit DACs and upsamples incoming signals to that bit depth, while the DBP-4010UDCI uses 24-bit DACs with upsampling to 24 bits. The flagship offers a two-channel balanced analog output fed from a discrete board, while this player has dedicated single-ended two-channel and multichannel analog outputs. When you add all of this up, Denon seems to have brought a core of high-end features that are very comparable to what's in its flagship for a lot less money.
The X Factor?
In this paragraph, I'd originally questioned whether a traditional high-end player like this one, whose principal value adds are robust build quality and high performance over its analog outputs, is conceptually dated in the Bluray era, which is HDMI-centric and rapidly expanding into streaming-based multimedia. The premium video-processing solutions that used to separate the high-end players are common in entry-level and midrange players. And there's no doubt that fewer users have systems optimized for getting the most from analog audio sources anymore. As I was finishing this review and wondering whether the entire concept of a high-end disc player is in need of a reboot, Denon forced some rewrites on me by announcing two new universal Blu-ray players, available this summer. I took particular note of the DBP-2011UDCI, which will be $799 and includes Anchor Bay video processing, new 32-bit DACs, and a host of streaming services such as YouTube and Netflix. The DBP-2011UDCI is also 3D ready, needing only a firmware update for full Blu-ray 3D capability. Apparently, some people at Denon think a reboot is needed too.
Setup + Use = Ouch
Setting up this player is a painful exercise in frustration tolerance. While each menu item has a description of what each setting does, the settings are often confusingly labeled and the descriptions less than illuminating. For instance, why would I suppose that I'd need to set I/P Direct to On for 1080p/24 output to be enabled? I/P usually indicates Interlaced/Progressive conversion. And once I/P Direct is on, you still need to change the HDMI resolution setting to Source Direct or 1080p/24 to be certain that Blu-ray Discs encoded at 1080p/24 will be displayed that way. While the setup menu informs you that you have to set the HDMI audio output to Auto to enable bitstream output for Dolby TrueHD and DTS-HD Master Audio signals, you still have to use the remote's Mode button when a disc is playing to change the BD Audio Mode to HD Audio to transmit the bitstreams and get sound. It's nice that you can select bitstream audio as the default but can also use the Mode button to select secondary audio for PiP and other interactivity features on the fly. But why the two-part setup for a basic feature like bitstream output?
LATEST VIDEO