Denon AVR-X5200W Atmos-Enabled AV Receiver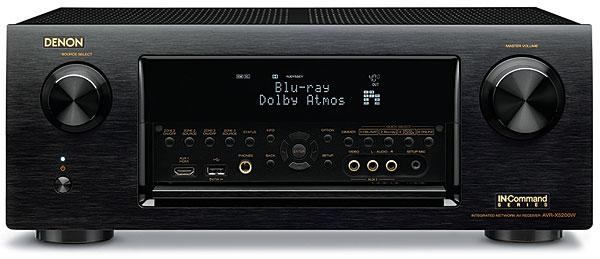 PRICE
$1,999
AT A GLANCE
Plus
Dolby Atmos surround
4K-ready/upscaling with HDMI 2.0
Nine channels of flexible power
Top-tier Audyssey room/speaker correction
Minus
No HDCP 2.2 for future UHD content
Fairly basic supplied remote
Some mode-selection options a bit cumbersome
THE VERDICT
Outstanding audio capabilities and thoughtful ergonomics underpin our first Dolby Atmos-capable AV receiver.
It's been several years since I've had the opportunity to "do" a big Denon AV receiver. So when a sample arrived of the company's behemoth AVR-X5200W, one of the very first receivers ready to decode and distribute Dolby Atmos in a home theater setting, I was ready to begin. Atmos is the San Franciscans' latest, "object-based," scalable-multichannel surround format.
But that aside, the AVR-X5200W is still an impressive receiver, boasting nine channels said to produce 140 watts each (full-bandwidth-rated, two channels driven), along with extensive wireless abilities (including AirPlay, Bluetooth, and app-streamed Spotify), the latest-gen Audyssey auto-setup software (including dual-subwoofer EQ/coordination potential), an HD Radio tuner, and the list goes on (and on). You'll have to consult Denon's Website for the full monty. HDMI v2.0 4K-ready connections and upscaling facilities are also on board, though, like many other 2014 receivers, the AVR-X5200W lacks the HDCP 2.2 digital rights management (DRM) decoding that will be required to pass through some future 4K sources and content going forward; a consideration if you plan on upgrading to a UHD display during the life of the receiver and expect to use this as your video switcher.
Aesthetically, the AVR-X5200W looks a lot like nearly every other AV receiver of the last 10 years: black, two big knobs, blue fluorescent display, flip-down door concealing switches and jacks. Its metalwork is carefully fashioned and finished, and the controls all feel first-rate. The design may look familiar, but this new Denon feels like quality.
Setup
Unboxing and connecting the receiver went perfectly smoothly. With nine channels of amplification, there are a lot of connections, including no fewer than 11 pair of heavy, multi-way speaker-out jacks along the bottom edge—where I firmly believe they belong, keeping bulky speaker wires out of the way of every other connector and its label. (Thank you, Denon.) HDMI jacks are just as numerous, also numbering 11: eight inputs (one on the front panel) and three outputs, one dedicated to a remote Zone 2. Legacy video connections are confined to a pair of assignable component-video inputs and one output.
I connected my usual suite of compact three-way monitors, center channel, and dipole surrounds, initially setting everything to Large in order to maximally stress the Denon's many amplifiers. My speakers are all considered difficult loads, because they have moderately low sensitivity and are somewhat reactive, so this is a pretty fair test.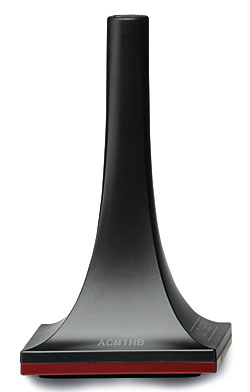 I also connected a quartet of Dolby Atmos-supporting "elevation" speakers; the new A60 Elevation Module from Definitive Technology. These single-driver, breadloaf- sized, up-firing cabinets are sold individually but are really designed to mate with Def Tech's BP-8060 towers, to which they attach in place of the towers' detachable top panels. Since I was interested in exercising the AVR-X5200W's Atmos abilities with my familiar reference speakers, I used temporary rubber feet to keep the A60s positioned atop my stand-mounted fronts and alongside my shelf-mounted surrounds.
The heart of the AVR-X5200W's setup process is its self-guiding Setup Assistant, which walks you through all of the pertinent variables of speaker, network, and input parameters and assignments. The onscreen color graphics are quite extensive; it's all pretty slick.
At the core of this process is Audyssey Platinum speaker/room correction, which collects speaker/room acoustical data for its top-tier MultEQ XT32 algorithm from as many as eight different mic positions—all of which I dutifully sat through, a chore of about 20 minutes' duration. The onscreen instructions were clear and direct, and the simple but informa- tive graphics really helped keep track of the routine. Since any room-correction technology is by nature entirely room/speaker-dependent, I did the greater part of my auditioning with Audyssey's equalization (and Dynamic Volume and Dynamic EQ) disabled. That said, the comparisons I did make revealed the familiar-in-my-room MultEQ virtues of slightly more transparent or "focused" midrange and tighter, better pitch-defined upper bass.
Music and Movies
My first order of business, as always, was to evaluate the big Denon's abilities as a plain ol' two-channel amplifier, driving my front pair in stereo, Direct mode—that is, full-range, no subwoofer. No problems there: The AVR-X5200W sounded warm yet defined on superbly recorded two-channel material like "Cry Me a River" from the inimitable Bonnie Bramlett (an 88.2-kilohertz HDtracks download). At convincing concert levels (loud!), everything coexisted in unfettered musicality: the rich tonality of acoustic piano, the very strong bass guitar, the full detail of brushed-cymbal nuance, and the ultra-defined, hollow, shell-y thwack of the brush-hit snare, not to mention Bramlett's amazingly rich, world-weary contralto, miked and recorded to perfection.
While I'm thinking about it, let me make a short detour here to say that the Denon's handling of DLNA-networked music, via my Mac's Twonky Media–driven server, was exemplary. Its navigation of the server menu structure and its cueing, play/pausing, and skipping of tracks were reliable and notably quicker than that of most other receiver-based DLNA clients I've used. (And as more and more of our listening comes from streamed files, high-res or otherwise, these ergonomics become increasingly significant.)
MORE FROM S&V's DOLBY ATMOS SPECIAL
Atmos, Here: Sound & Vision's First Foray Into Object-Based Sound
Interview: Greg P. Russell, sound rerecording mixer of Transformers: Age of Extinction