Denon AVR-888 A/V Receiver
Never has the field been so full of top-quality A/V Receivers and the competition is fierce among the top manufacturers for these types of components. It used to be that low-end models kept costs down by eliminating features and seriously compromising sound quality. However, consumers have come to expect the most bang for the buck, at any price, significantly raising the bar on less expensive models such as the $749 Denon AVR-888.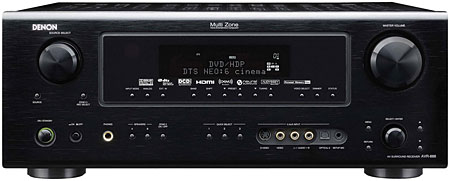 The AVR-888 delivers a substantial 100-Watts into each of its seven channels, offering additional configurations for systems requiring fewer channels. For instance, you can have a complete 5.1-channel system in your main theater and then use the extra zone provided, set up a two-channel system in another room. Another possibility is to use the additional channels to bi-amp the front left and right speakers in your main 5.1 system.
If you are setting up a 7.1-channel system and still want to use the Zone 2 capabilities of the AVR-888, you'll need to add a second two-channel amp to power the speakers in the 2nd zone. All controls for the second zone, including input switching, volume, muting and power on/off, are handled by the supplied Denon remote, which is the same remote that runs the main system. Unlike some manufacturers, Denon doesn't provide a second remote for just the 2nd zone.
A potential negative for the AVR-888 is it only offers two HDMI inputs. Granted, they are version 1.3 and compatible with all of the pertinent video features you'd want and expect there. You will have to pre-determine your needs and, perhaps, use the three component video inputs and six digital audio (three coax/three optical) connections for more of your gear.
The Denon AVR-888 offers decoding for most current surround formats including Dolby Digital EX, DTS-ES, DTS 96/24, DTS NEO:6 and Dolby Digital Pro Logic II. A key feature that didn't make the cut, no doubt to keep the price down was the omission of onboard decoding for Dolby TrueHD and DTS-HD Master Audio. However, the good news is that the AVR-888 will accept multichannel PCM via HDMI from your Blu-ray and/or HD DVD player, allowing Dolby Digital Plus, TrueHD and DTS-HD tracks converted to PCM to be transmitted at full resolution.
Since my DirectTV HD Receiver does not pass multichannel PCM over HDMI, I choose to connect it to a set of component video inputs and an optical digital audio input, reserving my Blu-Ray and HD-DVD players for the HDMI inputs. Of course, the sound and video doesn't suffer using this alternate configuration, though I would prefer to use HDMI for all three because I can eliminate some additional cabling
The rear panel looks more streamlined than many AVRs and that's because there are some I/Os missing such as preamp outputs, which would have allowed the addition of a more powerful amplifier for the main system. Only Zone 2 has analog preouts for use with an external amp. Deletions such as this and the two HDMI's make the AVR-888 vulnerable to early obsolescence. However, it does provide 7.1-channel analog inputs for external multichannel sources and a MM-type phono input.

The Denon AVR-888 incorporates a Faroudja DCDi chip and all video signals are automatically upconverted into the format used to output video signals. Simply, this means you only have to send a single output to your monitor. So, for instance, regardless of how many different types of inputs you use combining component video, S-Video and composite, they can all be watched via the HDMI output. Now if your TV is slightly older and only has a component video input, you can use that as your single video output. This cross conversion has become a fairly common feature to ensure the best video quality from all your sources and to reduce cable clutter.
Resolution can be set to output at the input resolution of the source or to upconvert all video input signals to the maximum resolution of your monitor. For instance, 480p and 720p inputs are upconverted to 1080p (HDMI only). For component video the maximum output is 1080i, but you can also set to 720p depending on the native resolution of your monitor.
The AVR-888 uses Audyssey MultEQ for automatic speaker calibration and room EQ. I remember the very first high-end preamplifiers that ran well over $10,000 in the late 90's that toyed with automatic calibration. This technology has certainly trickled down and Audyssey has made it amazingly affordable for manufacturers to make it available on all their AVRs regardless of price. This set-it and forget-it feature makes speaker calibration of a multi-channel system super quick and easy. The room EQ can be calibrated for up to four listening positions to ensure that everyone is getting the best performance from various seating locations in your media room/theater.
Like most new AVRs the Denon AVR-888 offers special connections for a XM Radio tuner (Sirius is not supported) and a dedicated iPod Dock. With the iPod Dock all of the media player's playback functions are controlled via the Denon's remote. To playback your iPod you need the ASD-1R, ASD-3N or the ASD-3W from Denon. Of course, all three are sold separately. However, when using the ASD-1R its possible to also view photos and video content on your iPod through the connected monitor.