Denon AVR-3808CI A/V Receiver
Denon sound quality lives on in the next generation.
I'm not the sort of guy who replaces his A/V receiver every couple of years when the latest line adds a new feature. When it comes to audio, I prefer to choose a quality component and stick with it. My last receiver purchase was about five years ago, the Denon AVR-3803, which had what I expected to be everything I'd need for the long haul. Later models added interesting new functions like Dolby Pro Logic IIx processing but nothing that compelled me to install a whole new receiver.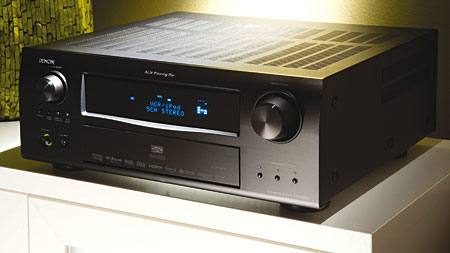 All of that changed when Blu-ray hit the scene and brought with it a host of new advanced audio codecs (see our "High-Definition Audio" article in May's issue) that the old receiver didn't support. I'd put off upgrading for a while, but I now found myself in need of HDMI 1.3 inputs and full decoding capability for the high-resolution Dolby Digital Plus, Dolby TrueHD, and DTS-HD codecs. Since I was perfectly happy with my last machine, what I really wanted was the exact same receiver with all the latest bells and whistles added.
The AVR-3808CI, with an MSRP of $1,599, falls squarely in the mid-range of Denon's current receiver lineup, which extends from a $349 entry-level receiver up to their $5,200 reference unit. It's obviously not the company's top-end model, but with 130 watts per channel, a robust set of features, and Denon's excellent sound quality, the AVR-3808CI more than meets my needs, and it should satisfy the owners of most moderate-to-large home theaters.
The Setup
Denon has given its receivers a makeover in recent years. The newer models are styled a little more streamlined and less boxy than Denon's past models. A flip-down panel hides a few controls and inputs not necessary for day-to-day use. For some reason, there's a new hard on/off power switch right next to the (much larger) on/standby button. I'm embarrassed to admit that I overlooked the small button at first and feared for a moment that the receiver was DOA when it wouldn't turn on.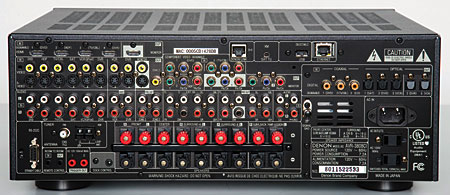 Denon has made some compromises to the back panel since my old AVR-3803 model, such as fewer TosLink digital audio connectors, but it's still fairly well stocked with inputs and outputs. Most important are the four HDMI 1.3a inputs that are said to be compatible with both Deep Color and x.v.Color video content. (Note that there are currently no video sources encoded with such.) The HDMI inputs are switchable to one monitor output. Personally, I would have liked a second HDMI output. There are two of every other type of output for those connecting to multiple displays, and the external HDMI splitters I've used have been expensive and glitchy.
Denon has also updated the labeling of the connections to do away with some older conventions like VCR2 or V-Aux in favor of modern lingo like DVR, HDP (High-Def Player, presumably), and iPod. Oddly, Denon doesn't seem to expect any of its users to own gaming consoles. Of course, the labels are just a guide. In what I think is a pretty nifty new feature, once you get into the unit's setup menus, you can rename any input to accurately reflect the connected source on the front-panel display. Little things like that can help the user experience immeasurably. Too bad it's not possible to also change the button labels on the remotes.
Denon has included two remote controls in the box, one listed as the main remote and the other a sub remote. The latter is intended for playback in listening zones 2 and 3. The primary controller is a universal learning remote with hard buttons at the bottom and a touchscreen panel at the top. It can operate up to seven devices other than the receiver itself, but I didn't care for the ergonomics or design. It's also easy to smudge the screen, which was practically illegible under my fingerprints after just a few minutes of use. Honestly, I preferred the sub remote. It isn't as pretty, but it has large, clearly labeled buttons and a simple layout.
At first glance, the onscreen GUI menu appears to be very straightforward and intuitive, but I found myself becoming frustrated the further I got into it. Every setting change you make either opens up or closes off numerous other options. I had to constantly retrace my steps to make sure I didn't miss anything important. The settings you choose for Dolby sources don't necessarily carry over to DTS, so you should thoroughly check every possible combination. Many critical functions are insufficiently named or explained in either the user manual or the menu text. For example, in the HDMI Setup menu, there's a function labeled I/P Scaler, which I assume stands for interlaced/progressive. The options are off; A to H; or A to H & H to H. I eventually figured out that A to H means that only analog video signals are processed, while A to H & H to H will scale both the analog and HDMI video inputs, but nowhere is that clearly documented.
The Audyssey MultEQ XT auto-setup process is extremely easy to use. Simply plug the included microphone into the jack on the front panel and follow the directions on the screen. It shouldn't take very long at all to cycle through the recommended six listening positions. I tend to be skeptical of these things and didn't entirely agree with the results that the machine calculated. I tweaked a couple of the channel levels a decibel in one direction or the other per my preference, but the recommended settings weren't too far off from the values I manually measured from my primary seat. The speaker distances were surprisingly accurate.
Working the Kinks Out
Like most A/V receivers these days, the AVR-3808CI attempts to be an all-in-one processing solution for both video and audio. For video, the receiver uses the Genesis/Faroudja FLI-2310 chipset. Kris Deering evaluated this chipset in our last issue and found it to be strong at deinterlacing and scaling standard-definition content but not so good with high definition. I concur, and I'll add that the scaler also doesn't recognize the aspect-ratio flags in DVD video signals. Although the receiver has an option to pillarbox 4:3 material on a 16:9 screen, it doesn't automatically detect and switch its settings for 4:3 or 16:9. It also lacks the ability to zoom 4:3 letterbox discs.
For my part, I choose to turn all video processing off in the receiver and use an external DVDO scaler for those functions instead. To that end, I first tried routing my video sources through the DVDO and then out by HDMI to the receiver. Unfortunately, that caused a very distracting ground-loop hum from my center channel that only went away when I reconnected everything so that the receiver came first in the signal chain.
Since I configured the system that way, I've run into numerous instances of HDMI handshaking problems between the receiver and my Motorola cable box. An HDCP authentication error appears on the screen, and the high-definition cable box drops down to 480p output. It occurred so often that I've rewired the cable box to use component video instead. That never happened prior to the time I introduced the Denon. Luckily, I've had no HDCP handshaking issues with DVD or Blu-ray. When all of the video processing is turned off, the AVR-3808CI cleanly passes an HDMI signal of any resolution up to and including 1080p/24 without interference or distortion.
The Next Generation of Audio
I've been a fan of Denon's sound quality for years and was always pleased with my last model's Dolby Digital and DTS performance. In that regard, I knew what to expect from the AVR-3808CI and was certainly not disappointed. It produces a warm, full-bodied sound without turning strident at high listening levels. Perhaps just as importantly, the midrange remains clear and discernible, even at lower volumes, whereas, in my experience, some receivers emphasize the extreme highs and lows while letting vocals become muddy unless you crank up the juice.
But I didn't install a new receiver for more of the same. The point of this upgrade was to gain full decoding for all of Blu-ray's advanced audio formats. The four HDMI 1.3a inputs accept the native digital bitstreams for Dolby Digital Plus, Dolby TrueHD, and DTS-HD (both High Resolution and Master Audio) if the Blu-ray player can transmit them. Sadly, BD hardware remains inconsistent on this subject. Some players, like the PlayStation 3, can decode the high-resolution formats internally and transmit them as multichannel PCM. Others have no internal decoding but will pass the native bitstreams. Early models may not support advanced audio at all.
After I connected a Panasonic DMP-BD30 Blu-ray player by HDMI and set all of the audio options to Bitstream, the AVR-3808CI successfully received and decoded audio signals from all the new formats. My first test was to fire up I Am Legend (Blu-ray) in lossless Dolby TrueHD, and it sounded spectacular. Subtle audio cues during the quieter moments as Will Smith explores an abandoned New York were captured with excellent clarity and fidelity. The later slam-bang action scenes flooded every speaker in the room with thundering dynamics. Lossless tracks in the DTS-HD Master Audio format that 20th Century Fox favors were equally impressive. Clanging swords in Kingdom of Heaven (Blu-ray) reverberated in my chest, even within huge battle scenes where I would normally expect individual sounds to be lost in cacophonous murkiness.
The mid-tier (lossy but high- bit-rate) Dolby Digital Plus and DTS-HD High Resolution codecs are no slackers, either. If not bit-for-bit identical to their studio masters the way that lossless tracks are, they nonetheless exhibit a discernible improvement in fidelity over the legacy DVD sound formats. I still wouldn't call standard Dolby Digital 5.1 or DTS soundtracks bad by any means, and I was quite satisfied with them for many years. But now they just seem thin and lifeless in comparison. This is truly a case where you don't realize what you're missing until you experience something better.
As far as I'm concerned, high-resolution audio support is a must-have feature in any new A/V receiver, and I find it disconcerting that some boutique brands continue to release high-priced gear without it. By the same token, decoders for the new advanced audio codecs are not the only criteria that make a good receiver. There may be less expensive alternatives on the market for these features, but it doesn't seem worthwhile to sacrifice some other feature that contributes to sound quality (like first-rate digital-to-analog conversion) just to see a TrueHD or DTS-HD indicator light up on the front panel. The Denon AVR-3808CI strikes a nice balance, delivering terrific quality at a mid-level price point. Speaking as someone who only grudgingly swaps out receivers when a truly compelling need arises, this was exactly the upgrade I hoped it to be.
Highlights
High-quality sound at mid-level price
Frustratingly complex onscreen menus
Pristine HDMI passthrough
Video processing could be improved