Denon AVR-2805 Digital Surround Receiver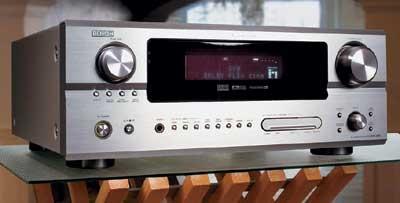 Sure, it's great to be an "early adopter" of new technology. You get to play with the latest, coolest gear before any of your oh-so-20th-century friends, and you can learn about new trends as they emerge, transforming yourself into a thundering bore . . . er, valued cocktail-party guest. Of course, you pay top dollar for the privilege and inevitably end up with a few dead ends shoved back in your closet. (Anybody wanna buy a DCC recorder?)
FAST FACTS
RATED POWER 100 watts x 7 into 8 ohms with maximum 0.05% THD (channels driven individually or in pairs) DIMENSIONS 17 1/8 x 6 3/4 x 16 3/8 inches WEIGHT 28 3/4 pounds PRICE $899 MANUFACTURER Denon Electronics, usa.denon.com, 973-396-0810
On the other hand, you conservative-with-a-small-"c" types have waited until now to buy a modern A/V receiver. You patiently suppressed your desire for a receiver with 6.1-channel Dolby Digital EX and DTS-ES decoding, Dolby Pro Logic IIx (DPL IIx) processing for 6.1/7.1-channel playback of stereo and Dolby Surround sources, and fully flexible component-video facilities until you were really, really, really sure they weren't going to spring some new, "must-have" wrinkle on you next month. (Sadly, we can't guarantee that they won't.) Well, good for you - you're smarter than most of us. And Denon's got your reward right over here: the new AVR-2805.
From the front, it looks very similar to other recent Denon receivers: same big central display, same big and small knobs and scattering of small buttons, all with the same tiny, black-on-silver (or dark-gold-on-black) label-ing.
SETUP I like the rear panel. There are lots of digital audio inputs (only two are coaxial, unfortunately) and three component-video inputs. The new Denon has two more welcome features:
First, its onscreen displays (OSDs) go to all its video outputs, including component - though only in standard 480i (interlaced) format. That means that if you call up an OSD while watching HDTV or using a DVD player's progressive-scan (480p) output, you'll have to wait for your TV to blank and resync. But better that than having to toggle TV inputs just to read a sufferin' receiver display - hoo-rah!
Second, the AVR-2805 upconverts every composite- or S-video input source to component, so you need only a single component-video connection to your TV for everything. No more switching monitor/TV inputs, ever - double hoo-rah!!
LATEST VIDEO