Definitive Technology W Studio Micro Soundbar System Review
PRICE
$899
AT A GLANCE
Plus
Ultra-thin form factor
Triple-threat with movies, music, and wholehouse audio
Great sound
Minus
Awkward handling of network media
THE VERDICT
The W Studio Micro's strong performance and tons of streaming music features make it an easy recommendation.
The soundbar is one of the fastest-growing market segments in recent years, and that's no surprise. As consumer demand grows for ultra-thin TVs with virtually zero bezel, display manufacturers are in the quandary of where to put the built-in speakers. The answer for most has been placing shallow speakers behind the screen, firing away from listeners. Obviously, these sonic compromises make it increasingly difficult to understand dialogue— let alone actually enjoy the wider dynamics of movies or music— and the simple solution is adding a soundbar.
Soundbars are veering off in two directions: They're either low-end, sub-$350 models, designed merely as TV sound improvement products, or high-end, $1,000-plus models, designed to be viable alternatives to traditional 5.1-channel surround systems. The soundbar middle class, if you will, has been getting pushed out.
Definitive Technology's new W Studio Micro fits into this mid-market pricing segment—and it does so with aplomb by including Play-Fi, making it far more than a simple, one-trick-pony TV audio replacement. In fact, playing TV audio isn't even the coolest part of what the W Studio Micro is all about. Instead, Definitive Technology has delivered a new pony with three distinct tricks.
Play What?
Play-Fi has been in the market for more than a year now, so it's likely you've heard of it. In short, it's a wireless, multiroom music streaming platform developed by Phorus, a company founded by a former tech executive at Harman International and acquired in 2012 by DTS (yes, the same DTS you know from surround sound).
Play-Fi uses a home's existing wired and Wi-Fi network to distribute music to a variety of equipped devices without applying any additional data reduction or compression. One of Play-Fi's biggest appeals is that unlike Sonos, Bluesound, or Heos, it's an open platform that can be licensed by any manufacturer, meaning you can buy your favorite brands of Play-Fi-enabled speaker, amplifier, and soundbar and have them all work together.
In addition to Definitive Technology, companies that have either released product or announced plans to embrace the Play-Fi ecosystem include Polk Audio, Paradigm, MartinLogan, Anthem, Fusion Research, McIntosh, Sonus Faber, Arcam, and Wadia.
New Bar, Three Tricks
The W Studio Micro soundbar-and-subwoofer system makes the sixth product in Definitive's Play-Fi lineup, or Wireless Collection. I've previously reviewed the entire series up to this point—W7 and W9 tabletop speakers, W Amp stereo amplifier, W Adapt non-amplified source component, and W Studio soundbar system (Sound & Vision, April 2015 and soundandvision.com). Much as I wrote about the W Studio, the Micro will likely be Definitive's Trojan horse for Play-Fi; people will probably buy it just because it's a great soundbar with an ultra-thin form factor. But on top of significantly improving your TV- and movie-watching experience, the Micro is also a full-blown music streamer, and it provides the ability to become part of a full housewide audio streaming system—all of which makes this bar an off-the-charts value proposition.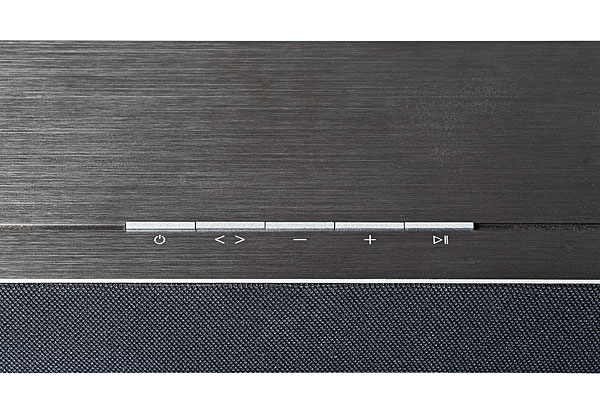 Regular readers may recall from my earlier review that I complimented the sound quality of all the products but couldn't really embrace the Play-Fi user interface. The first thing I can say is how much has changed and improved over the past 10 months! It's clear that DTS hasn't been resting on their Play-Fi development laurels, as the iOS app has been completely overhauled, with many new services and features supported. To be honest, my initial experience with the Play-Fi iOS app during my prior review felt like I was looking at a product still in beta: It had a basic, boring design with many rough edges. Now the totally redesigned app—launched literally days after I received the Micro— feels finished, slick, and ready for prime time.
Before, the iOS version of the app was so throttled back, I constantly felt like I was fighting with the system instead of enjoying it. No more. Now the apps—versions for both iPhone and iPad—are not only feature rich, they look as good as they work.
Moreover, numerous streaming services have been added, so that Play-Fi now supports Deezer, Rdio, SiriusXM, Internet Radio, Pandora, Songza, Spotify Connect, Tidal, and KKBox (not currently available in the U.S.), with Rhapsody expected by the time you read this. You can also stream any content stored locally on your iOS device and any music on drives on the network (though with some issues I'll describe later). That means you should never want for any listening options, and you can have confidence that Play-Fi will continue adding services.
Besides iOS, Play-Fi offers free apps for Android and Kindle Fire. I didn't try either during my review, but the Android app was slated to receive the same facelift and may be available by the time you read this. A free Windows control app for PCs is available with very basic control, but Definitive provides a code to install the full, licensed version of the app—"Play-Fi HD," usually $14.95—at no charge to customers who register their systems. Currently, there's no Mac version.
Setup
First, don't be alarmed by the fairly huge, L-shaped box the Micro arrives in, which is also one of the more challenging boxes I've ever opened—a bit like deconstructing an origami creation. Once you free the soundbar from its packaging, you'll be startled by how thin, lightweight, and micro the Micro truly is.
Indeed, at 1.75 inches high, the Micro definitely earns its moniker. One of the terrific things about being so thin is the bar can sit in front of virtually any stand-mounted TV without blocking the picture. With TV manufacturers making their tabletop stands shorter and shorter, many bars end up infringing on the bottom of the screen. Not to worry here.
The bar is so lightweight, I was honestly a bit concerned about how much sound it would be able to produce. Fortunately, these fears proved to be unfounded. Part of why it's so lightweight is because Definitive has removed the power supply, instead using an external "brick" to power the bar, so depending on how you install the Micro, finding a way to conceal the brick might be an issue. With the power supply off-loaded, the Micro runs incredibly cool; even after a full day of TV and movie use, the top of the bar never got even warm to the touch.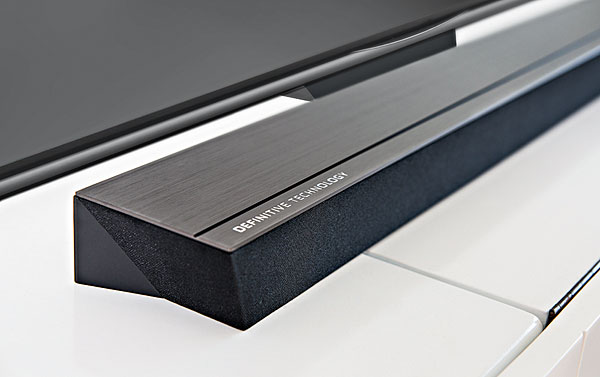 While Definitive describes the Micro's anodized-aluminum top panel as having a "brushed-black" look, I'd call it more of a black-graphite, Stealth Bomber appearance. I mean, I've never seen the B-2 Spirit in person, but this bar looks and feels like I imagine it does. The front and edges are wrapped in black cloth, and the bar definitely looks modern. The bar has two keyholes for wall mounting, which is how I installed it. At 3.25 inches deep, the bar might extend slightly further off the wall than some current TVs, but its thin profile helps it call little attention to itself.
As a good part of the Micro's life will be integrating with a TV, Definitive includes two Toslink optical digital inputs and one minijack input for an analog audio connection. There's a nice cavity that makes it more ergonomic to connect and access the wiring. The typical install will likely involve all sources connected to the TV via HDMI and then a single optical digital audio cable to the bar. Keep in mind, though, that many TVs will downconvert Dolby Digital and DTS bitstreams presented to their HDMI inputs to PCM stereo for their optical audio output, which would bypass the Micro's onboard Dolby Digital and DTS converters. You might enjoy better sound quality with a direct optical connection of both your set-top box and Blu-ray player unless your TV can be set up to pass these signals.
While the Micro comes with a remote control, even handier is its ability to learn commands from another IR remote, such as the one for your TV, cable, or satellite box. The feature lets you power it on, change inputs, adjust volume, and more from a single remote. Definitive also provides discrete IR codes to use with third-party control systems—something that custom installers love, I assure you. The Micro can also repeat IR commands through an included IR flasher, in the (unlikely) event that it does block your display's IR receiver, and it has a rear-panel IR input for direct connection to a control system.
Visually, the supplied down-firing subwoofer is your basic black cube, with a single, discreet "D" logo on the front. Installing the sub is simplicity itself: I plugged it in, and it immediately paired with the bar—and that was it. In fact, the only thing on the sub to mess with is a power rocker switch. If the sub happens to lose sync with the bar—which never happened during my review—a Sync button on the bar lets you re-establish the connection. The sub has an estimated 30-foot transmission range to the bar and can be hard-wired if need be.