Definitive Technology Atmos-Enabled BP-8060ST Speaker System Review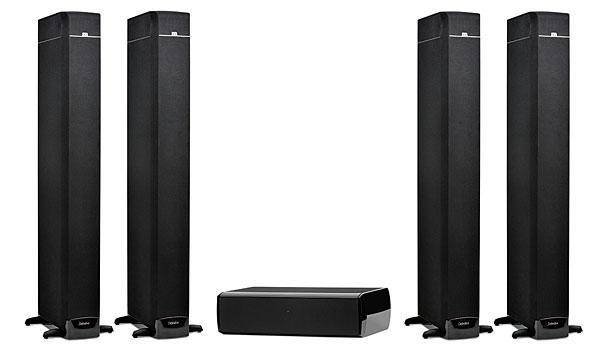 PRICE
$5,693
AT A GLANCE
Plus
Awesome potential for clean loudness
Impressive tonal fidelity and finesse
No subwoofer required
Atmos!
Minus
Requires generous spacing and AC power
Connectivity is a bit complex
THE VERDICT
A one-stop, state-of-the-surround loudspeaker solution, especially apt for any who prefer not to accommodate a subwoofer—with the bonus of being Dolby Atmos enabled.
Definitive Technology's BP-8060ST has remained a highlight of the Baltimore-area maker's lineup for several years—a dog's age in the new-and-improved, series-II world of high-end loudspeakers. The longevity suggests that Definitive considers this slim "power tower" a fully evolved design, and indeed it's hard to argue the point.
Not even 6 inches wide, each obelisk contains six active drivers (including a rear-facing two-way that delivers the company's signature bipolar radiation pattern), two 10-inch passive radiators, and onboard amplification for the single driven 10-inch woofer. It's a tour de force of design and packaging efficiency.
The bipolar thing is central to Definitive's design philosophy. The rear-firing midrange and tweeter accompany a three-driver, forward-firing D'Appolito array; the rear drivers are electrically in phase with the front drivers (but several decibels lower in level) to give the BP-8060ST its bipolar character. Bipoles like this speaker tend to contribute a subtly more spacious, or perhaps just "bigger" sonic character with an extended sense of soundstage depth, to just about everything you play through them. Simultaneously, the bipole advantage improves such worthwhile technical aspects as more even polar and power responses, even in the forward hemisphere, enhancing real-world palpability in actual rooms. (A little history: Back in 1976, Peter Snell of the late, lamented Snell Acoustics began utilizing this approach, at the higher frequencies where beaming is most problematic, by mounting a rear-facing second tweeter.)
I first reviewed the BP-8060ST for Sound & Vision upon its initial release back in 2011, and Shane Buettner, then editor of the current Sound & Vision's predecessor Home Theater, reviewed its big brother, the BP-8080ST, around the same time. Still, what's new and notable about the BP-8060ST today, and makes it worth taking a fresh listen, is that it's now being touted as one of the very first loudspeakers to offer upgradability for Dolby Atmos, the new "object-oriented" surround protocol that includes an overhead height layer. We've been covering Atmos regularly, including a short feature discussing its performance with this very speaker system (see "Atmos, Here"). But a brief recap is still probably in order.
In commercial cinemas, Atmos' verticality is reproduced by multiple ceiling speakers. At home, an introductory Atmos standard is a 5.1.4 layout—the conventional surround speaker layout is supplemented by front and rear top surround pairs. One way to achieve this at home is by using the same method employed in commercial cinemas: with speakers physically mounted in or to the ceiling. But with many of us unable or unwilling to elect that, Dolby conspired with some manufacturers, Def Tech among them, to cook up Atmos-enabled loudspeakers, with an angled, top-firing driver aimed to reflect the height channels from a smooth ceiling surface. This, along with DSP signal manipulation in the processor, is used to help create the illusion that sound is coming from overhead locations.
One-piece Atmos-enabled speakers will arrive from several makers, but Definitive stole a march on them by devising an add-on, the A60 Elevation Module, which clips neatly atop each BP-8060ST when the tower's gloss-black top panel is simply lifted off its pegs. Sold in pairs, the loaf-of-bread-sized A60s are sealed, one-way boxes with a single 3-inch driver and a pair of conventional, five-way binding post terminals on the rear surface.
Thus, for a complete system, we assembled four BP-8060ST towers, a CS-8060HD center (which employs the same forward-firing three-driver array as the towers, but displayed horizontally, and with a smaller, but still powered onboard woofer), and two pair of the A60 height units. Since the frequency response for each powered BP-8060ST extends quite low (to 20 hertz, according to Def Tech's specs, a claim I could easily accept), no subwoofer was necessary, even in my amply sized room.
Setup
Installing the Def Techs involved a bit of work and some choices. First, the towers come with small, screw-on aluminum outriggers for their bases, which I employed, spiked. The slender towers are fairly stable without these, but the manufacturer goes to some pains to encourage use of the extra feet. Placing floorstanding tower surrounds in my studio entailed a good bit of furniture moving, and grumbling, but I made it work.
The towers and the center channel alike each require mains power to their supplied IEC removable AC cords (the A60s are strictly passive). And each may be supplied a full-range signal by a conventional, high-level speaker cable only, or hooked up via the speaker cable supplemented by a line-level RCA- interconnect cable from your processor's subwoofer output. In the latter case, you make crossover and sub-level assignments via your A/V receiver or controller as you would with any satellite/subwoofer system; in the former case, the crossover is fixed in the speaker (not specified), and each unit's bass level is controlled by the single rear-panel knob present on each.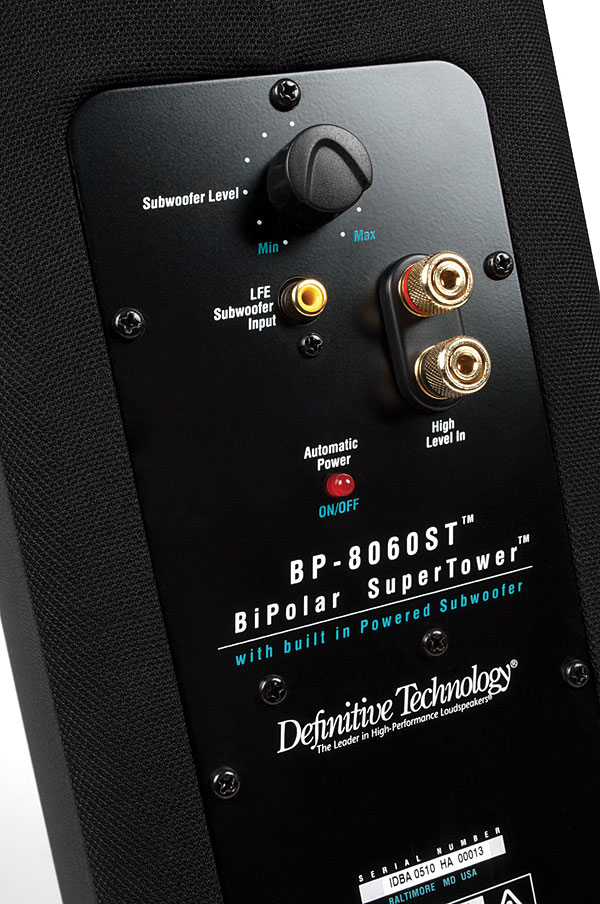 I stayed with the first, simpler option (setting all channels to Large), both because I suspect most owners will use it that way and because I wanted to experience the speaker as Definitive designed it, without my own tastes superimposed. (Another reason: Splitting the subwoofer output four ways and running two to the back of the room for the surround towers would have been a chore.) In previous installations, I've tried both and can report that the differences are unimportant for most rooms. (The dual hookup might come in handy if you've got a serious 100-Hz-ish room spike, in which case underlapping the crossover a half-octave or so to create a compensating gap in output can help.)
I placed the front towers a bit in front of my usual screen-flanking positions, so that their rear panels were about 32 inches from the wall; generous spacing is important for the bipolar pattern, and I found that the towers became a bit bass-heavy when placed much closer. The CS-8060HD center went on my usual low stand, adjusted to the screen's bottom edge. The surround pair of towers I placed a bit behind the listening position, angled slightly in.