Definitive Technology BP-8080ST Speaker System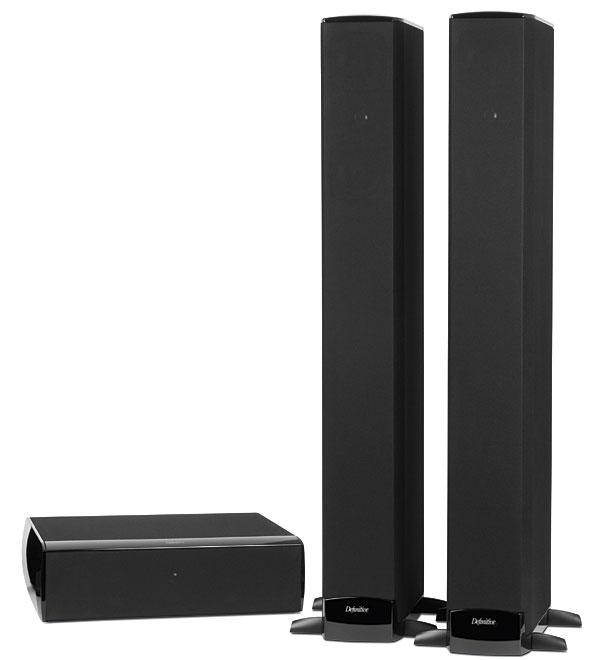 Price
: $3,997
At A Glance
: Forward Focused Bipolar Array provides spectacular soundstage, imaging, and focus • Built-in powered subs bring the bass slam for movies and music • Big speakers, big sound, small footprint
Bipolar, Refocused and Refined
Living bipolar isn't an unfortunate state of mind at Definitive Technology; it's a chosen philosophy. And stretching further, it's perhaps even a reason for being. Founded in 1990, Definitive is a stalwart brand and a staggering success story in the CE business. Definitive has made compelling entries in the speaker market in recent years with speakers as diverse as its flat, sexy Mythos XTR-50 on-walls and its ultraslim, floorstanding Mythos STS. But the bipolar Super Towers, which include built-in powered subwoofers, are still the flagship line. To this day, much of Definitive's brand identity is those tall, sleek, and big-sounding black towers. The reason you're reading this review is that the bipolar Super Tower series has now been completely redesigned and reborn.
This past August, I visited Definitive's Maryland headquarters and was afforded a sneak peek and listen at the new bipolar ST line. The room was modest in size and minimally treated, and the electronics were very real world: An OPPO Blu-ray player and a midline, name-brand AVR comprised the system. I was floored. I liked what I heard enough to sign on for the manual labor involved in schlepping around and reviewing a pair of floorstanding loudspeakers and a matching center channel, something lazy fellows like me don't do so often. But these new Definitives—the top-of-the-line BP-8080ST ($1,499 each) and matching CS-8080HD center ($999) reviewed here—were worth some schlepping and then some. Lemme tell you about a little sump'n special…
The New Black
Much is different about the new BP-8080ST towers, but one thing remains the same. You can still have your Definitive bipolar towers in any color you'd like as long as that color is black. They're still wrapped in unassuming black socks, with a glossy top cap. Each 48-inch-tall tower is a slim 7 inches wide and 16 inches deep and performs an optical illusion in tapering slightly, even gracefully, at the front. Small isn't the right word for these speakers, but I was constantly thinking to myself that the sonics they delivered (big in every sense of the word) were disproportionate to the in-room footprint. These aren't small speakers by any stretch, but they somehow don't occupy as much mental real estate in your room (which as we all know is the hardest real estate to come by, especially for our spouses). And of course some function follows form (or vice versa); the smooth, tapered edges of the narrow baffles combat diffraction, which can improve performance.
Unboxing the BP-8080ST is easy for two people, as each tower only weighs 66 pounds. There's a single set of binding posts (no biwiring) that are arranged vertically, and here's my problem with that. I use spade lugs and heavy cables by AudioQuest, and invariably they pulled loose over time from the bending and tension that this arrangement requires. I'd prefer an oldfashioned side-by-side set of binding posts, and another set for biwiring. Each tower also has a single subwoofer level control and a single LFE input on an RCA connector to directly connect the LFE/subwoofer output of your A/V receiver or surround processor to the powered subwoofer in the BP-8080ST.
The BP-8080ST ships with stabilizer feet and spikes for carpeted floors, as well as rounded floor guides for hard wood, both of which are best installed by two people—one to tilt and one to do the mounting.
Focusing Forward: Business in the Front, Party in the Back
While virtually all of the components in this design are new, the biggest departure in the new bipolar ST series is perhaps philosophical. The Definitive bipolars of yore had two midrange drivers and a tweeter in a D'Appolito array on both the front and back of each speaker, with full output from both arrays. While this configuration results in a more spacious soundstage with all that reflected energy coming off the wall behind the speaker, detractors would say that this approach sacrifices image focus and some detail for all that grandeur. The new bipolar ST series employs what Definitive calls its Forward Focused Bipolar Array. Each speaker has a full dual midrange/single tweeter D'Appolito array on the front baffle, plus a single midrange and tweeter on the back of each speaker. The rear drivers' output is 6 decibels lower than the front. So in a sense, these new bipolars aren't quite as bipolar as your daddy's bipolars. But Definitive contends that this new Forward Focused design is the best of both worlds—the spaciousness of bipolars with the imaging and resolution of a front-firing design. My take? Read on. I'm not making it that easy for you.
The patented 5.25-inch BDSS (Balanced Double Surround System) midrange drivers (two in the front, one in the back) are brand-new designs made with mineral-injected polymer cones, cast-aluminum baskets, and a new, dimpled "linear response waveguide" that's patent pending and aims for smoother dispersion and off-axis frequency response. The tweeters on the front and back are identical 1-inch pure aluminum jobs that are new to the bipolar line. Then there's the powered woofers and the heavy lifting. Each BP-8080ST features a 12-inch active woofer (mineral-filled polypropylene cone) and two 12.5-inch passive radiators, effectively making this a bassreflex design. Each active woofer is powered by a 455-watt Class D switching amplifier with a digital front end (signals crossed over to the subwoofers are converted to digital) and integrated Digital Signal Processing for EQ and distortion and damage protection. You're likely to cry for mercy at high volumes long before these woofers do, but it's still not a bad idea.