Deep Tracks - Universal's Lost Tunes
Imagine finding all the deep tracks, random recordings that you loved but the general public never got, or even just a beloved favorite that's too old for the mainstream sites to carry. Now, imagine finding them without copy-protection. Wanna sweeten the pot even more? Add to that a higher bitrate than you'll find on iTunes, Rhapsody or Amazon.com.
Does such a dream site exist?
Universal Music has just delivered what you've dreamed about. Lost Tunes is a DRM-free music store that will feature more obscure classic tracks from pop and rock, blues, reggae, soul, and other tracks that are hard to find on the big services. The tracks are encoded at 320kbps, so the quality is significantly better than the mainstream sites.
Currently, Lost Tunes is only available in the UK, but they're hinting more markets in the near future. A single track is 99p.
Here's what the website says about what they're doing. "Think of us as your small local record store, run by a team dedicated to helping you find the very best music. And not only that, but Lost Tunes comes with a secret stash of records you can't find anywhere else online.
We've set about with the aim of uncovering exclusives and hidden gems and bringing them to you as top quality digital downloads. Alongside the rarities, we've also picked what we think are unmissable albums for you to add to your collection, and we've pulled together articles and reviews to help you discover music that we know you'll love.
OUR SELECTION is small enough for you to browse around. We've currently got 829 handpicked albums in the store, and each and every one is worth having. We carefully edited our selection (and sometimes argued with each other over them) so we've only included music we love, and left out all the thousands of other albums we weren't sure about. Most importantly, we've also spent the last year in archives uncovering forgotten rarities and getting them in the store - there's 130 albums here that you can't find to buy digitally anywhere else."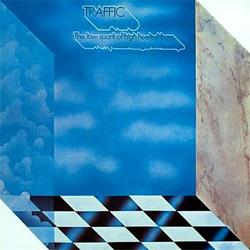 Well. They can say they're only available in the UK. I just downloaded Traffic's The Low Spark of High-Heeled Boys sitting right here in the good old U.S. of A. and it sounds really, really good. The album cost me about $15.00 US. More expensive than iTunes, but I'll pay more for better quality and DRM-free any day. Gotta go see what else is hiding on Lost Tunes. -Leslie Shapiro
LATEST VIDEO