Deadpool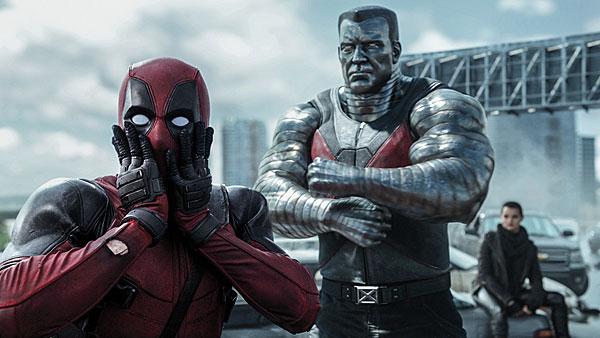 The story moves briskly in part because it is so simple, essentially origin and revenge. Wade Wilson (Ryan Reynolds) is a mercenary ready to kill anyone for money. When faced with a life-and-death crisis, he undergoes a brutal scientific experiment that might save his life, but he winds up as a pawn for some very bad people, and he goes looking for some bloody, chunky, dismembery payback. Despite his ordeal, he maintains his unique comedic voice and fondness for pop culture references, speaking directly to the viewer like Ferris Bueller turned up to 11. He manages to break every imaginable rule of Comic Book Filmmaking 101, and Deadpool is all the better for it. Reynolds finally has the vehicle he has been so patiently waiting for, charismatically carrying the movie on his well-muscled shoulders as he spews a seemingly endless barrage of potty humor. Make no mistake; the R rating is well earned by the plethora of F-bombs, masturbation jokes, and gruesome violence that is typically played for laughs. And it's a blast.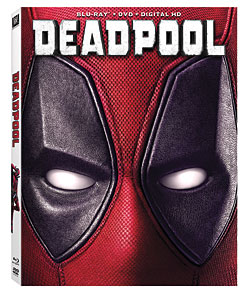 Captured digitally, Deadpool is given a spectacular 2.4:1 presentation on Blu-ray. It was mastered at 4K (a 4K Ultra HD Blu-ray Disc edition of this title is also available), and the image is clean, stable, and amazingly detailed. Perhaps the most striking call-out of the disc's clarity is the fine grid texture of Deadpool's red costume, dependably crisp and sharp regardless of his proximity to the camera. Guest star Colossus from the X-Men is a computer-generated character here, and from the bonus features we gain a sense of how much work went into his creation. The dirt and reflections and minute scratches on his ridged metal body work wonders to sell the illusion in a subtle way. Out-of-focus backgrounds, often under overcast skies, still manage to deliver ample picture information.
The soundtrack is every bit as impactful, all 7.1 DTS-HD Master Audio channels working together in brilliant, powerful harmony. (The 4K disc packs Dolby Atmos with a TrueHD 7.1 core.) The over-the-top action is like a sonic toybox, with slick effects dynamically panning from speaker to speaker, remarkably aggressive rears and awesome bass throughout. There are plenty of noteworthy quiet moments as well, helping to set the mood or simply adding atmospherics to various scenes.
Extras are highlighted by a behind-the-scenes documentary as well as ten deleted/extended scenes with optional director commentary. Tim Miller also joins character co-creator Rob Liefeld on one of the two full-length commentary tracks, with star/producer Reynolds and screenwriters Rhett Reese and Paul Wernick on the other. A gag reel, image gallery, and a collection of clever promotional materials round out Deadpool's ample package.
Blu-ray
Studio: Fox, 2016
Aspect Ratio: 2.40:1
Audio Format: DTS-HD Master Audio 7.1
Length: 108 mins.
MPAA Rating: R
Director: Tim Miller
Starring: Ryan Reynolds, Morena Baccarin, Ed Skrein
Truly, right from the opening credits, Deadpool lets the audience know that it is like no other comic book movie that has come before it. First-time director Tim Miller's visual style is undeniably bold, while the humor tackles head-on virtually every cliché of the genre… then sets it on fire and pees it out. After the title character's big-screen debut in the misfire X-Men Origins: Wolverine seven years ago, a complete overhaul was in order. The cinematic Deadpool is now a vastly more accurate embodiment of his persona from the page: irreverent, ruthless, yet possessing at least a little gold in that self-repairing heart.