Darkman (Blu-ray)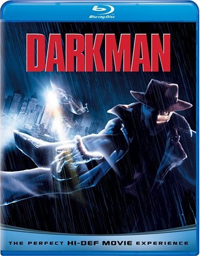 While working one night to perfect his invention of artificial skin, scientist Peyton Westlake (Liam Neeson) is horribly disfigured when an explosion engulfs his lab. Barely alive, he takes some experimental medication leaving him with super-strong strength and immunity to pain, although he's prone to fits of uncontrollable rage. He proceeds to rebuild his lab in an underground hideout and seek revenge against the men responsible for his disfigurement.
Director Sam Raimi is better known for helming the Spiderman franchise and this early work of his shows many of the shortcomings of a young director. The acting is flat, it's not shot particularly well, and I didn't have any emotional bond to the characters.
Video Highlights

VC-1/1080p encode on a BD-25 disc
Same video encode found on the HD DVD
Decent black levels
Rich color saturation
Inconsistent detail and occasional edge enhancement
Audio Highlights

DTS-HD MA 5.1 soundtrack
Front-loaded presentation
Intelligible dialog
Adequate LFE
This is a ho-hum catalog release and it shows it didn't receive a lot of TLC from the studio. Both the audio and video are passable, but won't have enthusiasts sitting on the edge of their seat.
Bonus Materials

I've never been a huge fan of this film, but it does have a cult-like following. The presentation isn't going to blow anyone away and the lack of any supplements may anger some. Recommended for fans only.
Click here to email any comments or questions!
Release Date: June 15, 2010
Studio: Universal
Movie: 6/10
Picture: 7/10
Sound: 7/10

Review System
Source
Oppo BDP-83 Blu-ray player

Display
JVC DLA-RS1 projector
Stewart FireHawk screen (76.5" wide, 16:9)
Electronics
Onkyo Pro PR-SC885 pre/pro
Anthem PVA-7 power amplifier
Panamax M5400PM power conditioner
Speakers
M&K S-150s (L, C, R)
M&K SS-150s (LS, RS, SBL, SBR)
SVS PC-Ultra subwoofer
Cables
Monoprice HDMI cables (source to pre/pro)
Best Deal analog-audio cables
PureLink HDC Fiber Optic HDMI Cable System (15 meters) from pre/pro to projector

Acoustical treatments from GIK Acoustics
LATEST VIDEO