CTA: TVs, Smart Speakers Will Help Propel Tech Sales to Record Levels in 2019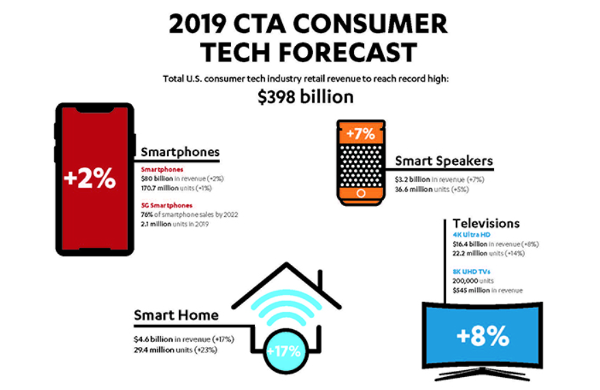 Domestic sales of consumer technology are fast approaching a milestone of almost $400 billion in annual revenues, according to the Consumer Technology Association's (CTA) 2019 Consumer Tech Forecast released last week at CES 2019.
Artificial intelligence (AI) and fast connectivity — key ingredients for the next era of category leaders, which include smart home devices and smart speakers — are expected to help drive the U.S. consumer technology industry to a record-breaking $398 billion in retail revenues for 3.9% year-over-year (YOY) growth, the CTA said.
Smart speakers and wireless earbuds are among the categories expected to contribute significantly to the growth of consumer technology in 2019.
Sales of voice-controlled smart speakers, including the likes of Amazon Echo and Google Home, are projected to top 36 million units and earn $3.2 billion in revenue for year-over-year increases of 5% and 7%, respectively. Although adoption is slowing due to the onslaught of voice integration in TVs and other devices, smart home devices and smart audio products remain a "category to watch as consumers embrace AI in the home," CTA said.
Wireless earbuds were singled out as a standout category with sales expected to reach nearly 16 million units in 2019 for upwards of $2 billion in revenue and incredible year-over-year growth of 44% and 46%, respectively.
Smart-home systems and devices — including Wi-Fi cameras, thermostats, and other products that address home monitoring and security — are projected to top 29 million units in 2019 with $4.6 billion in revenue for year-over-year increases of 23% and 17%, respectively.
"The future is bright for many tech products consumers already know and love, as stalwart revenue drivers including smartphones, laptops, and televisions continue to innovate," said Steve Koenig, CTA's vice president of market research. "2019 will mark the introduction of 5G-enabled devices and smartphones and next-gen screen technology such as 8K UHD televisions to the market. And constantly-evolving content from streaming services that enhances the experience across 'the three screens' — TVs, smartphones, laptops — will help push consumer spending in tech to new levels."
Sales of televisions, one of the industry's top revenue drivers, are projected to remain above 42 million units, a 1% decrease from 2018, and register $22.6 billion in revenue for a 2% year-over-year increase, according to CTA.
More than three-quarters of TVs shipped in 2019 will have a screen size of at least 40 inches and 4K/Ultra HD sets will account for more than half of all TV sales, or 22 million units generating $16.4 billion in revenue for respective year-over-year increases of 14% and 8%. Shipments of OLED TVs will reach 1.4 million sets with double digit growth projected through 2022, CTA said. Meanwhile, the 8K TVs unveiled last week at CES 2109 are projected to post inaugural revenue of about $545 million this year.
Music and video streaming services is another hot category to watch with consumer spending expected to reach $26 billion in revenue, a 25% increase over 2018. TV streaming from the likes of Netflix will account for to $18 billion of the total, while on-demand music streaming from the likes of Spotify and Pandora brings in an estimated $7.7 billion, for respective year-over-year gains of 27% and 22%.
The industry forecast is based on U.S. factory sales-to-dealers for more than 300 consumer tech products and related software and services. CTA was quick to point out that "any escalation in the trade dispute with China and potentially steeper tariffs would present significant headwinds to CTA's forecast."