CTA Announces CES 2019 Innovation Awards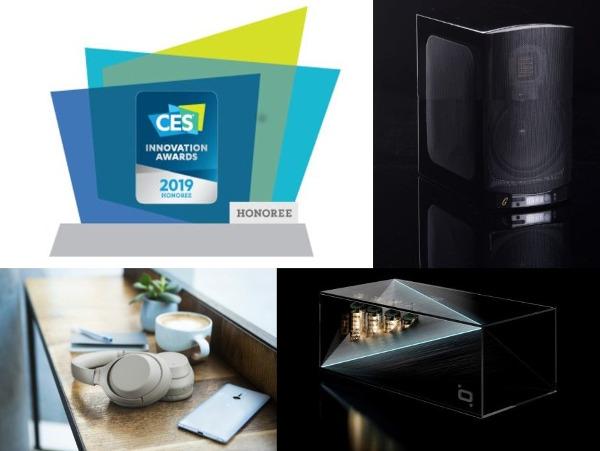 The Consumer Technology Association (CTA) has announced the winners of the annual CES 2019 Innovation Awards program that celebrates outstanding design and engineering in 28 wide-ranging consumer electronics categories.
Winners are selected by a panel of judges — including designers, engineers, and members of the tech media — who evaluate submissions based on aesthetic and design qualities, intended use/function and user value, engineering, and how the products compare with competitors on the market. Products that receive the highest ratings in their respective categories are singled out with the Best of Innovation designation.
To qualify for entry into the program, the products must be initially offered for sale between April 1, 2018 and April 1, 2019.
All 2019 Innovation Honorees will be featured in the Innovation Awards Showcase at CES 2019, which returns to Las Vegas January 8-11, 2019. The trade show is owned and produced by CTA.
Winners in the Headphones, High-Performance Audio-Video, and Home Audio-Video Components and Accessories categories are listed below with descriptions provided by the winning companies. Best of Innovation winners are noted.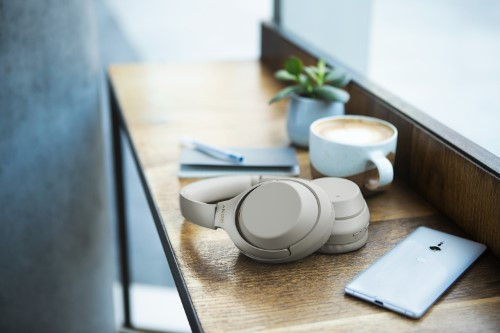 Headphones
Best of Innovation Winner: Sony WH-1000XM3 Headphones offer industry leading comfort, noise cancellation and sound quality. Built with consumers in mind, they offer upgraded noise cancelling performance to enhance the listening and user experience.
1More Penta Driver In-Ear Headphones are the newest flagship model of 1More's award-winning headphone line, featuring 5 balanced armatures for an extremely intimate listening experience with lower distortion and abundant details.
1More Spearhead VR BT In-Ear Headphones feature a dual-dynamic driver in a patented hybrid acoustic design with low latency Bluetooth v4.2 and ENC technology for real-time sound reproduction and a revolutionary mobile gaming experience.
1MoreTriple Driver BT In-Ear Headphones feature a patented hybrid acoustic triple driver design and a high-resolution LDAC + AAC Bluetooth codec that provides a lossless, audiophile-grade wireless experience without affecting sound quality.
Audeze Mobius is the world's first premium, immersive, 3D cinematic headphone designed specifically to maximize the audio experience of gaming, movies, and music. It combines leading-edge, best-in-class technologies to truly put you into your content and deliver truly realistic 3D audio.
Plantronics BackBeat FIT 3100 true wireless sport earbuds are designed for outdoor fitness enthusiasts. These earbuds provide superior stability, durability and ambient awareness with unique Always Aware eartips for safer training in any environment.
Phiaton Bolt BT 700 is the latest addition to Phiaton's popular line of wireless headphones and earbuds, Bolt BT 700 are the first True Wireless earbuds to feature balanced armature drivers and a portable charging case that doubles as a wireless speaker.
Onanoff Limited BuddyPhones Play are innovative volume-safe headphones for kids that play to learn. To meet today's listening needs, the Play comes with StudyMode, a first-to-market setting that enhances learning by making vocals crisper, clearer, and more comfortable to listen to.
Rand McNally ClearDryve 200 Headphones, engineered for professional drivers, are the market's first 2-in-1 wireless stereo headphones and noise-cancelling mono headset. It offers high-resolution audio playback, superior noise-cancellation, and switchable all-day over-the-ear comfort.
JLab Audio Epic Air Elite True Wireless Earbuds are the second generation of JLab's sport focused true wireless. Designed with major upgrades, they feature the longest battery life, custom EQ3 Sound, and Be Aware Audio. Intuitive controls and a strong sweatproof make them the ideal fitness earbud.
Jaybird Tarah Pro Headphones – Durable and fast-charging, with an industry-leading 14-hour battery, these ultimate headphones are inspired by the extreme demands of endurance adventures. Waterproof and sweatproof, they provide a secure custom-fit and uncompromising sound.
Beyerdynamic Lagoon ANC Headphones revolutionize wireless music pleasure with the combination of state-of-the-art noise cancellation and MOSAYC sound personalization. They offer complete, relaxing silence but also the highest sound quality that adjusts perfectly to the hearing capability of the listener.
Master & Dynamic MW07 True Wireless Earphones feature handcrafted acetate, a hand-polished stainless steel charging case, proprietary "fit wings," innovative, patent-pending antenna technology, optical sensors and 10mm Beryllium drivers to deliver a superior mobile sound tool.
Samsung AKG Y500 Headphones offer best-in-class sound and innovative features designed for easier listening, and give users the audio experience they always wanted.
Onanoff Limited StudyPhones are the first headphones designed for a new generation of listeners. Focused on the education market and modern workplaces, StudyPhones combine comfort, durability and innovative vocal optimization to enhance listening to spoken audio content for long periods of time.
HiVi Acoustics Technology Swans AW-85 Digital Noise Cancellation Headphones feature innovative magnetic attraction wireless charging, high efficiency active digital noise cancellation, automatic play/pause/stand-by function, environment voice enhancement mode, high performance sound quality, multiple noise cancellation modes, and APT-X Bluetooth transmission.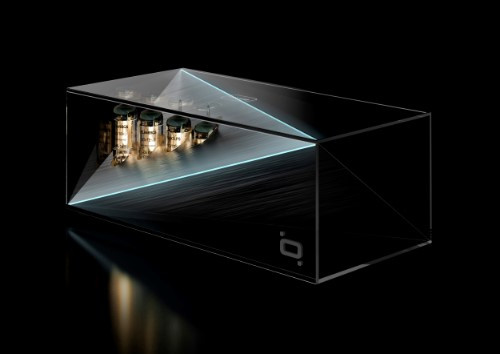 High Performance Audio-Video
Best of Innovation winner: Qoobi One wireless tube amplifier allows you to play digital music files from any source (smartphone, tablet, etc.) via Bluetooth, using the best analog technologies based on vacuum tubes that make sound Incredibly bright and emotional.
Dali Callisto Speaker System features the choice of active bookshelf or tower speakers that wirelessly connect to the Dali Sound Hub. Along with built-in Bluetooth apt X HD connectivity, the Sound Hub can be upgraded with an optional BluOS module running hi-res multiroom audio and music.
Mark Levinson Nº 5805 Integrated Amplifier is derived from the same "pure path" design philosophy as the distinguished Mark Levinson Nº 500 series products and was created to deliver all the performance and quality expected from Mark Levinson with new affordability and exceptional value.
Nakamichi Shockwafe Ultra 9.2 SSE Atmos Soundbar System is a 9.2-channel Dolby Atmos-enabled soundbar with two wireless subs and four modular surround speakers. With Nakamichi's Spatial Surround Elevation processing engine, the system delivers instant cinema-grade 360° surround to any room environment in 30 min.
AdongVRF Rendez-Vous High Resolution AV Streamer is an Android-based streamer that accurately plays audio files up to 24 bit/384 kHz and 4K/UHD 10-bit HDR video content in Android mode and audio flies up to 32 bit/384 kHz and Native DSD up to DSD256 in the proprietary HRAV mode.
Sony Master Series 4K A9F OLED TV is an industry leading addition to Sony's long line of high-end televisions, equipped with both Netflix Calibrated Mode and Google Assistant integration. Consumers will be impressed with the television's high-quality picture and fast processing speeds.
HiVi Acoustics Technology Swans 2.2A Speaker System is an active stereo system featuring intelligent voice input, multiple separate speakers that act as a convex linear sound source, an active DSP filter, an audio-input interface, wireless cloud-based media playback, and a built-in six-channel 1,800-watt power amplifier.
HiVi Acoustics Technology Swans MX1 Wireless Speaker System is an intelligent wireless Wi-Fi-based active speaker system featuring a unique and stylish appearance, interactive voice control, an active DSP filter, a 700-watt digital amplifier, and high-end sound quality.
Chengdu XGimi Technology XGIMI XJ03C Screenless TV is a minimalist-design laser projector that provides an immersive 300-inch home cinema experience. The XJ03C features native 4k resolution, groundbreaking 1500 ANSI lumen brightness, AI processing, and voiceprint identification.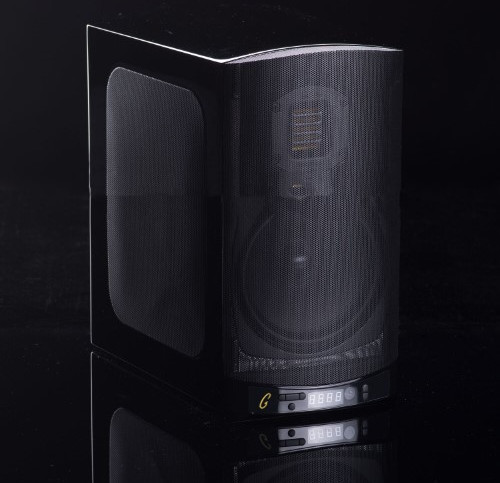 Home Audio-Video Components and Accessories
GoldenEar DigitalAktiv 3 High-Powered Wireless Speaker is an ultra-high-performance compact powered wireless bookshelf loudspeaker housed in a beautiful hand-polished piano-black monocoque cabinet. If features a 6-inch cast-basket bass/midrange driver, High-Velocity Folded Ribbon tweeter, and two inertially-balanced 8-inch passive radiators.
QNAP Systems HS-453DX 10GbE SilentNAS is a silent four-bay 10 GbE network-attached storage (NAS) solution powered by a quad-core Intel processor and featuring dual M.2 SSD acceleration, 4K HDMI 2.0 video playback, and real-time transcoding capability. A fanless design allows users to enjoy media playback, file backup, and sharing with no distractions.
Konka 98/86 A1 Series LED TV leads a new concept in home theater with a giant, narrow-frame screen and horn-based hi-fi sound.
Cleer Connect Smart Display Speaker features a voice interface, 8-inch display, camera, and stereo sound. Shuffle your playlist, stay connected, stream Netflix, and more via Bluetooth and Wi-Fi connectivity.
Hercules DJControl Inpulse 300 combines DJ mixing software and an innovative DJ controller with built-in light guides to help aspiring DJs learn how to perfect the art of manual beat-matching and choose the right songs for a seamless music mix.
Dlogixs Puck Healthcare Bluetooth Speaker is a portable speaker featuring special earphones designed to support better sleep and play RBS (Real-time Binaural Sound) music.
Quidbox TBEE is a smart hub device controlled by gestures, voice commands, or remote control that manages TV, internet content, music, videos, and apps in addition to supporting video calling, family gaming with a motion sensor, online shopping, and telemedicine.
IOGEAR 60GHz Wireless 4K UHD Video Extender is an ultra-high-performance wireless AV solution enabling the transmission of 4K Ultra HD video (3840 x 2160) and high-quality digital 7.1 surround sound audio from an HDMI source over distances up to 60 feet with near-zero latency.
Wi-Charge Wireless Power Kit transforms within minutes an existing wired Amazon Echo Dot or Google Home Mini smart speaker into a wire-free product. The transformed product can be placed and used anywhere without cables or proximity to an outlet.
Click here to browse all CES 2019 Innovation Honorees.