Crime & Punishment (Web exclusive!)
Ah, crime and punishment. They go together like . . . Leopold and Loeb, Donny and Marie, Rimsky and Korsakov. Except, of course, in the movies or on TV, when folks sometimes get away with murder (think Body Heat or The Player). In any case, here are some terrific new DVD releases (and a couple that should be locked away) that ring all sorts of variations on the age-old theme.
The TV entries first. Oz: The Complete Second Season (HBO; Series
, DVDs ), containing all eight episodes in a three-disc boxed set, is what we refer to at my house as the other edgy, ultra-violent cable crime show co-starring Edie Falco. It's superlatively acted by all concerned, but for my taste the writing is punk, with more implausible plot contrivances than an average daytime soap. Frankly, if the warden (played by Ernie Hudson) had been kidnapped by aliens, I wouldn't have been surprised. However, the set has some great-looking transfers, and extras include two episode commentaries, a half-hour roundtable discussion, deleted scenes, a music video, and a featurette.
Another treat for sore eyes: two new volumes from the groundbreaking early-1960s cop show Naked City (Image; Series , DVDs ). The transfers render the superb black-and-white visuals flawlessly, and since the series was shot on location in New York City, the overall effect is of a priceless time capsule of a vanished era. Dramatically, the individual episodes - four of the eight million stories in the naked city are on each disc - don't quite hold up, but the show attracted lots of first-rate actors (Robert Duvall, Walter Matthau) and some A-list directors including Arthur Hiller, whose "Murder Is a Face" is probably the best episode here.
David Caruso fans will be heartened by the release of NYPD Blue: Season 1 (20th Century Fox; Series , DVDs ), a six-disc, 22-episode set. The star is at the center of a gritty, occasionally pretentious ensemble cop show that in many ways is Naked City's spiritual descendent. Again, the transfers are first-rate, but I would be remiss if I didn't note how they occasionally point up a certain cheesiness in the series' production values. Extras include commentaries on select episodes, three featurettes, and a script-to-screen comparison.
Speaking of cheesy production values, how about the new edition of John Carpenter's 1976 pre-Halloween low-budget policier Assault on Precinct 13 (Image; Movie , DVD
)? Actually, cheesy or not, the film is a very effective urban update of Howard Hawks's Rio Bravo. The 2.35:1 widescreen transfer is the same as the 1994 laserdisc, and all of that set's bonuses are here, including the director's commentary, still galleries, storyboards, and the isolated music score. If you have the laserdisc, you probably don't need to upgrade, despite a nice new interview with the auteur.
Another auteur, John Cassavetes, had his biggest commercial hit in 1980 with Gloria (Columbia TriStar; Movie , DVD ) - not to be confused with the remake starring Sharon Stone. In the original, the director's wife, Gena Rowlands, gives the performance of her life as a mob moll on the run with a kid who knows too much. It's a great flick, but be advised that John Adames, who plays the kid, is hands-down the most irritating child actor in cinema history. The transfer is exemplary, but the extras are limited to some interesting trailers.
The DVD of Sidney Lumet's Q&A (20th Century Fox; Movie
, DVD ) also lacks extras, but you should get it anyway since it's one of the director's very best films, with an astonishing central performance by Nick Nolte. As a study of pure evil, Nolte's extremely bad lieutenant can be credibly compared with Robert Mitchum's psychopathic preacher in Night of the Hunter. The transfer looks great, the remastered stereo sound is effective (the better to hear Rubén Blades's evocative score), and keep an eye peeled for at least two future cast members of The Sopranos.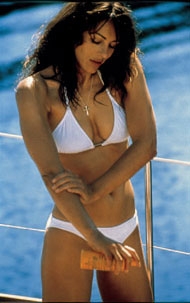 Kathryn Bigelow's The Weight of Water (Lions Gate; Movie
, DVD ) is also bonus-free, but I can't imagine anybody caring much, since the film itself is a tediously arty mess only barely enlivened by nice performances from Sean Penn and Elizabeth Hurley. It all has something to do with betrayal and a 100-year-old murder, but the result lacks the feverish watchability of Bigelow classics like Near Dark and Strange Days. The crisp widescreen transfer, however, makes the best possible case for the director's somewhat opaque vision.
If there are indeed fans of tediously arty messes, they should definitely take note of the 1999 Wesley Snipes vehicle Sugar Hill (20th Century Fox; Movie
, DVD ), which can best be described as New Jack City on acid. This is as turgid as any film of the 1990s. The transfer is excellent, though, and comes with a making-of featurette.
Director George Stevens's The Talk of the Town (Columbia TriStar; Movie , DVD ) was nominated for a Best Picture Oscar in 1943, and it's definitely the oddest film of the current roundup - which is to say it's part romantic comedy, part philosophical argument (literally) examining the issue of law vs. justice. For my money, the attempted genre-melding doesn't quite work, but the cast - Ronald Colman as a judge, Cary Grant as an accused murderer on the run, and Jean Arthur as the woman who gets between them - is great, and the new transfer from a mostly crisp black-and-white print is first-rate.
The black-and-white transfer of 1961's Victim (Home Vision; Movie
, DVD
) is even more impressive - and a good thing, too, considering that this is one of the landmark films of the early 1960s. The ultra suave Dirk Bogarde stars as the title character, a closeted British barrister who risks his marriage and career to foil a blackmail gang that's terrorizing gay men. While, to some extent the picture pulls its punches dramatically, in its day it was a radically gutsy look at a taboo topic. The disc includes a fascinating TV interview with Bogarde, who in reality was a closeted gay man himself. Ironies, as they say, abound.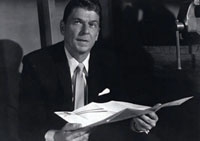 And finally, saving the best for last, massive kudos are due the two-disc set featuring Robert Siodmak's 1946 film noir classic The Killers along with Don Siegel's 1964 remake (Criterion Collection/Home Vision; Movies , DVDs ). For my money, the Siegel version is actually more interesting than its justly celebrated predecessor. Certainly, it's worth seeing if only to view a future president of the United States, Ronald Reagan, slapping Angie Dickinson upside the head. In any case, both films get sensational transfers and crisp mono sound, and the extras border on the amazing. My favorite is a 1957 student-film version by director Andrei Tarkovsky. You also get a separate music-and-effects track for each feature, Stacy Keach reading the original Ernest Hemingway short story that inspired them both, and a 1949 radio adaptation with Shelley Winters in the Ava Gardner/Dickinson role. This can only be judged an essential DVD.