Crestron Electronics CNX-PAD8
A Touching Experience: The Crestron CNX-PAD8 wholehouse audio-distribution processor helps your A/V system reach out to other rooms.
Which is easier to find: an honest politician, an easy-to-use wholehouse A/V system, or a woman who's so in to electronics that she has the A/V gear installed in her new home before the furniture has arrived?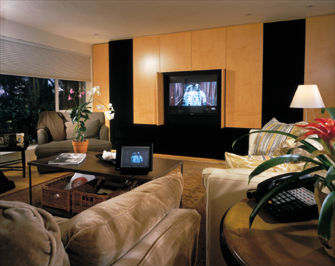 Yeah, I would've picked the politician, too. Until last week, that is. I was forced to change my answer as I prepared to review Crestron's CNX-PAD8 wholehouse audio-distribution processor.
Gear that's specifically designed for custom installation is tough to get a feel for unless you get a chance to use it in an actual home installation. In addition, the choice of installers is as critical as (if not more so than) the products themselves. Just ask any homeowner who's had a botched install. So, on the advice of Mike Braithwaite, Crestron's marketing manager of residential systems, I called Chris Jensen, project manager for the Audio Design Group in Salt Lake City, Utah—an outfit that started out as an upper-end audio store 10 years ago but has now become firmly established in the custom-A/V-installation business. Mike thought Chris was working on an installation I'd be interested in.
Chris was actually at the job site when I first spoke with him on his cell phone. The conversation went something like this:
"Six keypads...blah, blah, blah..."
"Uh-huh."
"Eight zones...blah, blah, blah..."
"Yeah, OK."
"Big home theater...blah, blah,
blah..."
"Right, got it."
"She's in her early twenties...."
"What did you just say?"
"She's in her early twenties."
"Who, the daughter?"
"No, the homeowner."
Now, in all my years in retail, I can count on one hand the number of women who seemed genuinely interested in the equipment. Don't get me wrong. I've met numerous women who were passionate about music and movies. However, in most cases, the gear (and more than a few salesmen) simply left them cold. That's really an indictment of the product designers, not the female customers. Here, though, was a woman who evidently got a kick out of the equipment. As I found out, music, movies, and even video games were important enough to her that Chris was one of the first contractors in the house when she moved in.
Needless to say, I was on a plane faster than you can say "cheap airfare." The story was already taking shape in my mind. Socially challenged, out-of-shape A/V reviewer guy meets beautiful electronics-enthusiast girl. Girl is so awed by A/V guy's incredible knowledge of all things home theater that A/V guy gets girl and they watch Farscape reruns on a big screen happily ever after. (Hey, it's my review. I'll end the story any way I want.)