Creed
Adonis Johnson (Michael P. Jordan) grew up never knowing his famous father, world heavyweight champion Apollo Creed. Apollo died before Adonis was born, and as a juvenile, Adonis spent much of his time in detention centers. One thing he always knew was that boxing was in his blood. Even though he was afforded every opportunity at a better life, being raised by Apollo's widow (Phylicia Rashad), he leaves his corporate job to move to Philadelphia and become a boxer. Once there, Adonis hunts down Rocky (Sylvester Stallone) and asks him to be his trainer. Despite Rocky's initial insistence that he no longer wants anything to do with boxing, he is drawn to Adonis. The two form a tight bond, and Adonis becomes like a son to Rocky, who soon finds he's fighting a great battle of his own as he prepares Adonis for the first true match of his still-young boxing career.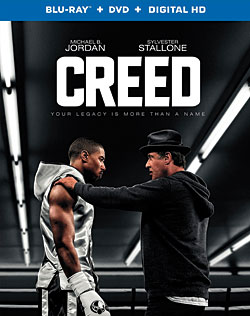 Creed was shot in HD on ARRI Alexa XT M and XT Plus cameras and arrives on Blu-ray in a 1080p AVC transfer. This is an excellent-looking film, appropriately gritty and desaturated at times, and it comes across wonderfully on disc. One can see every cut bicep and drop of sweat on the chiseled fighters, as well as every wrinkle on Stallone's face.
Warner has opted to stay old-school (relatively) with the audio track on Creed, giving the film a DTS-HD Master Audio 7.1 track in lieu of DTS:X or Atmos. That doesn't mean the track is compromised, however. While much of the film is quiet, it comes alive when the snippets of the hip-hop-inspired variation on the Rocky theme are brought to the fore and during the culminating fight sequence where we are placed in the center of the ring. Crowds cheer, and punches thwack us in the face and gut with heavy-fisted thuds.
There aren't many extras on Creed. The main event is a 15-minute featurette, in which Stallone, Jordan, and writer-producer Irwin Winkler discuss bringing the Rocky story to a new generation. Also included are 19 minutes of deleted scenes, a featurette on Jordan's training for the film, a DVD, and Digital HD UltraViolet.
Blu-Ray
Studio: Warner Bros., 2015
Aspect Ratio: 2.40:1
Audio Format: DTS-HD Master Audio 7.1
Length: 133 mins.
MPAA Rating: PG-13
Director: Ryan Coogler
Starring: Michael B. Jordan, Sylvester Stallone, Tessa Thompson
With Creed, director Ryan Coogler (Frutivale Station) reboots the long-running Rocky franchise for a new generation of fans. Like The Force Awakens, Creed, from a screenplay by Aaron Covington and Coogler, plays it safe, never deviating far from the fundamentals that made the original film such a success.