Creative Zen Portable Media Center Apex MP-2000 Portable Media Player
Sliced bread, move over.
The exhilaration surrounding established digital audio and video formats tends to plateau over time, until some pseudo-genius somewhere figures out a way to make the technology fit into our pockets, and then pulses quicken anew. The portable MP3 player has become the must-have gadget for the masses. Portable DVD has become even sexier, with larger screens and enhanced feature sets, but a new crop of slimmed-down audio- and video-to-go devices is poised to change everything...again.
Creative Zen Portable Media Center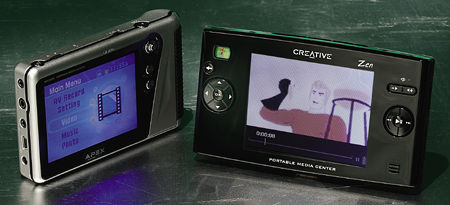 Leading the pack with the biggest fanfare are those products that run the Microsoft Windows Mobile operating system, which should look familiar to anyone who has tried a Windows Media Center Edition PC. Creative's Zen requires the Windows XP operating system for the host computer and installation of Microsoft's latest free media player, Windows Media Player 10, to serve as a link between your laptop/desktop and portable. The Zen plays Windows Media Audio, MP3, Windows Media Video versions 7/8/9, and ASF (Advanced Streaming Format, developed by Microsoft) files in their native format, plus JPEG photos.
At first, I came to view WMP10 as a necessary evil, due to its proactive nature that sought out and began uploading to the Zen every sound and image file indiscriminately, taking up all of the 20-gigabyte hard drive's effective 18.6 GB of storage with old product photos and game sound effects. I couldn't load the music and video I really wanted without first scanning and deleting much of what I found on the portable.
Dragging and dropping files to the Zen's Media folder was simpler and faster, although still sluggish when compared with other dragging/dropping I've done. Files with Digital Rights Management (DRM), such as Napster-purchased WMA songs and movie downloads from CinemaNow.com, can only be uploaded to the Zen via the WMP10 interface, and attempts to copy directly to the device result in error messages, in deference to their strict copy protection.
Powered by the XScale PXA255 400-megahertz processor, the Zen will play all compatible videos (but forget about QuickTime). However, you'll need to convert some files to WMV, an automatic process performed slowly by WMP10, even on my Pentium 4 3.2-gigahertz PC (plan to "set it and forget it" overnight, if possible).
You can also enjoy archived television content on the Zen, assuming you're properly equipped at home. The easiest approach is to start with a WinMCE computer specifically, as its integrated DVR creates mobile-friendly DVR-MS video files. Those people who only have Windows XP will need to be set up for PC TV recording. (One of the excellent ATI All-in-Wonder cards can provide both the necessary tuner and hardware-based video encoding.) Plus, you'll need third-party software such as SnapStream Media's Beyond TV 3; the ShowSqueeze feature can greatly reduce the size of your recorded files for less-cumbersome portability. In fact, negotiating the various formats handled by this device (and the Apex) would benefit greatly from an elegant, efficient all-in-one digital media solution like Ahead Digital's recently updated Nero 6 Ultra Edition.
Compressed and transcoded files generally looked fine on the 3.8-inch screen, and the eye forgives a certain amount of blockiness and other digital imperfections in this domain. However, when you connect the Zen to a TV of any real size via its included cables, these videos might not look as good, so I view this portable device as an easy, not ideal, way to display and share PC content beyond the PC. For example, the old Superfriends "Whassup?" commercial is, to me, still a killer, and I'd only ever seen it on my computer monitor.
The pseudo-symmetrical button layout is quite welcoming to us lefties, and multimedia creations like photo slideshows set to music are a breeze to configure out in the field. The removable, replaceable lithium-ion battery is good for about three full-length movies or about 20 hours of music, which you can enjoy through the adequate built-in speaker, although the claimed better-than-90-decibel signal-to-noise ratio is best appreciated through headphones.
Apex MP-2000 Portable Media Player
Dubbed "E2go" (entertainment-to-go), the MP-2000 is not an actual portable media center. It doesn't support Windows Mobile and requires no drivers whatsoever under Windows XP and only a painless driver install for Windows 2000. It is instead a somewhat more-agnostic music-, video-, or photos-anywhere alternative driven by a Texas Instruments DM270 processor and controlled via a micro-kernel embedded operating system. The accessory bundle is similar for both models covered here: carrying case, headphones, RCA-to-mini-jack adapter cable, removable lithium-ion battery, and USB cable.
Upon connection to my PC, the unit was immediately recognized as a new hard drive, prenamed "MP-2000," with Music, Video, and Photo subfolders already in there, so loading up is a rudimentary matter of dragging and dropping into each folder. The A/V adapter cable also pulls double duty, providing video input from a VCR or another analog source and enabling the built-in MPEG-4 hardware encoder to create new content away from the PC.
The MP-2000 can capture video at a standard, fine, better, or best setting, with the usual trade-off between quality and file size. If you plan on playing back your movies on a television, then definitely choose the best setting. Like the Zen, the MP-2000 can adjust the display settings for its impressive (particularly when held close) little LCD screen, with support for both NTSC and PAL standards.
The onscreen menus are basic and look quite sharp on a TV, and you can manage content via the unit's two on-face buttons and four-way nubbin. Adding, deleting, and otherwise juggling files is easier when connected to the computer, frankly. Battery life is well over three hours for demanding video watching and/or recording, which is about double that for music listening with the screen off.
My only real grouse about the MP-2000 is its frustrating tendency to play some files and not others. "How the file was created" makes all the difference according to the manual, in reference to the incongruities of different file-encoding applications. Certain files that did meet the theoretical requirements to play on the MP-2000 would not play, so I would have to call it a tad temperamental. The MP-2000 is a DivX-certified device, and any content created with the use of DivX-certified software should play back without incident, but older, unofficial encoders might not yield usable content.
The Big Question
Digital photos and compressed audio are all well and good, but what can I watch on this thing?
Surely MP3 succeeded because available content was plentiful: You could rip a compact disc or download music from formerly free services such as Napster. Alas, neither choice has a video counterpart amid the war on piracy, so the onus is on the consumer to procure his or her own content. At press time, the selection of portable media center titles for download at CinemaNow.com was, shall we say, limited.
The Zen included both TV and movie sampler clips provided by Universal, but no full-length programs were available from that studio. Perhaps the most disappointing news came from Lions Gate Home Entertainment, which had previously announced that special portable media center versions of the three Rambo movies would be included on their latest DVD edition, but they were ultimately scrubbed. Apex lacks the big-name partnerships, leaving users more in need of alternative sources. And the Hollywood glitterati wonders why otherwise law-abiding consumers don eye patches and raise Jolly Rogers in their quest to find something good to watch.
Highlights
• Video, music, and photos to go—and share on a TV
• Outstanding battery life well beyond Microsoft's minimum specifications
• Plays well with Windows Media Center Edition PCs