Crazy Stupid Love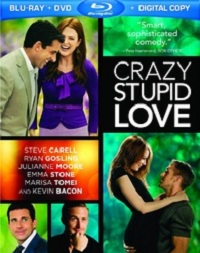 Straight-laced Cal Weaver (Steve Carell) is living the dream with a good job, nice house, and a seemingly happy marriage to his high school sweetheart. But when his wife drops the bomb that she's been having an affair and wants a divorce, he becomes a fish out of water when he enters the dating game again. Enter young Jacob (Ryan Goling), a guy Cal meets at a local bar who takes the older man under his wing in order to teach him how to be a ladies' man and to forget his ex-wife.
As far as romantic comedies go, they rarely break from the script, but that isn't the case here. In many ways, this film pokes fun at the clichéd moments found in the genre and the stars do a good job portraying their characters. I especially liked the young actor, Jonah Bobo, as he swoons over his babysitter (Jessica Tipton).
This is a solid HD transfer and features plenty of detail, decent black levels, and a strong color palette. Contrast is well balanced throughout the movie and flesh tones have realistic textures and hue. The DTS-HD MA 5.1 exhibits decent dynamics, intelligible dialog, and engaging surround queues, especially during the bar scenes.
Supplements include two short featurettes, deleted scenes, a bonus DVD of the feature film, and an UltraViolet Digital Copy.
Wittier and more intelligent than your average romantic comedy, Crazy Stupid Love is definitely a crowd pleaser. If you're looking for a fun movie for a date night be sure to put this one near the top of your queue.
Check out the trailer:
Ratings
Picture:4.5/5
3D-Ness: N/A
Sound: 4/5
Extras: 2.5/5
Interactivity: N/A

Disc Specs
Studio: Warner (2011)
Aspect Ratio: 2.40:1
Audio Format: DTS-HD MA 5.1
Length: 118 Min
MPAA Rating: PG-13
Director: Glenn Ficarra & John Requa
Starring: Steve Carell, Julianne Moore, Ryan Gosling

LATEST VIDEO