Cover Flow: Whither the iPad Album?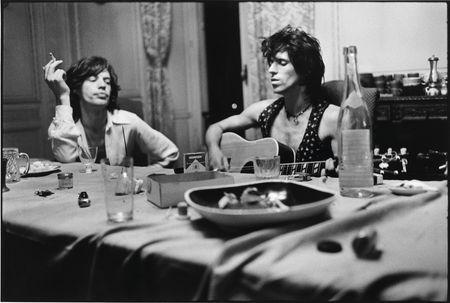 2011 is, obviously, shaping up to be the year of the tablet, but it's still unclear just what role the devices will play for music listeners, aside from giving them yet another iTunes library to maintain. For the most part they've been pressed into service as remotes, and a few labels have tested the idiom's promotional waters, but so far there hasn't been all that much content released with an eye (or ear) towards taking advantage of what amounts to a new format.
Eagle Rock Entertainment is entering the fray this week with three iPad apps to accompany two titles from their Classic Albums documentary film series, previously available on DVD and Blu-ray: Nirvana's Nevermind Classic Albums ($5.99), Rush's 2112 & Moving Pictures Classic Albums ($6.99), and a newly remastered release of the 1972 concert film Ladies & Gentlemen…The Rolling Stones ($7.99).
The apps include the documentaries (initial coverage seems to have misunderstood these as apps related directly to the albums themselves), along with a host of iPad-specific extras: bonus featurettes (tour rehearsal footage and additional interviews for the Stones app); photo galleries; a built in social networking tool that'll let viewers share commentary with each other. Eagle Rock's iPad releases do take advantage of the iPad's interactivity and its networking possibilities, though they imagine the iPad as an opportunity to add another layer of value-added material more or less along the lines of what we've already seen for years in DVD and Blu-ray releases.
Of course, that's not the only way to look at a format that's still something of an...er...tabula rasa. The iPad in particular has seen a few interesting full-album experiments so far.First out of the gate was NYC synth-pop act Francis and the Lights, who released their 2010 It'll Be Better album as an iPad-friendly HTML5 site. The Gorillaz famously recorded their most recent offering, The Fall, ON the iPad. (The Fall will get a 180-gram vinyl release this April 16th (Record Store Day-look for more on that from us, of course) And Bjork's long-in-the-works next major release, Biophilia, will see the light of day as an app. Biophilia should be impressive, but it won't be the first iPad album-Finnish artists Jori Kemppi and Johan Halin released their soundtrack to the game Revolve as an iPad app this past December.
And how will we be listening? Banking on the idea that music fans will be integrating tablets ever more tightly into their lives, manufacturers are now turning out iPad/iPhone docking stations ready to connect to the DAC of your choice. Of course, in the near future an increasingly ubiquitous AirPlay or something like it may be replacing all of our interconnects anyway.
Perhaps at the very least, the tablet will help undo some of the damage that CDs did to cover art. Think of the possibilities. I'm sure Bjork will be.
-Michael Berk