Couples Retreat (Blu-ray)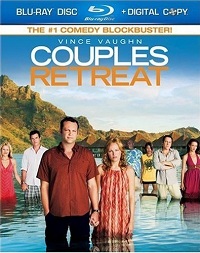 Eight friends group-rate vacation comes at a price when they discover that participation in the resort's unconventional couples therapy is anything but optional.
Watching the previews I didn't have high expectations but I found it to be extremely funny. My wife says the only man she would ever marry if I died would be Vince Vaughn for two reasons; she wouldn't have to change her last name and she thinks he's hilarious. Anyway, each of the four couples have their share of relationship, but the way the resort's host deals with these is quite amusing.
Other than some elevated contrast in daytime scenes, the AVC encode looks pretty damn good. Detail and color saturation are breathtaking, especially in Bora Bora with its rich green jungles and the crystal clear water. Flesh tones are a tad orange but fit the sun-rich environment. When the men trace through the nighttime jungle in search of one of their friends, the black levels are dark and shadows are equally impressive.
Don't expect much from the front-heavy presentation, but it serves its purpose. The surround channels are quiet for most of the film although there's ample score bleed that fills the room. Other than clear intelligible dialog, the highlight of the DTS-HD MA 5.1 soundtrack is the music selection, which is filled with popular tunes.
Supplements include a feature commentary with director Peter Billingsley and writer/producer/actor Vince Vaughn, an alternate ending, gag reel, deleted/extended scenes, some additional therapy sessions, and two making-of featurettes. Other exclusives include BD-Live access, a digital copy, and "pocket Blu" capability with an iPhone or iPod touch.
Vince Vaughn's acting range is very limited, but his style certainly fit this role. Kudos to the supporting cast of Jason Bateman, Jon Favreau, Faizon Love, Kristin Davis, and others for playing it straight and delivering one of the funnier comedies I've seen the past few years. Highly recommended.
Email any comments or questions!
Release Date: February 16, 2010
Studio: Universal
Movie: 8/10
Picture: 8/10
Sound: 8/10

Review System
Source
Oppo BDP-83 Blu-ray player

Display
JVC DLA-RS1 projector
Stewart FireHawk screen (76.5" wide, 16:9)
Electronics
Onkyo Pro PR-SC885 pre/pro
Anthem PVA-7 power amplifier
Belkin PF60 power conditioner
Speakers
M&K S-150s (L, C, R)
M&K SS-150s (LS, RS, SBL, SBR)
SVS PC-Ultra subwoofer
Cables
Monoprice HDMI cables (source to pre/pro)
Best Deal analog-audio cables
PureLink HDC Fiber Optic HDMI Cable System (15 meters) from pre/pro to projector

Acoustical treatments from GIK Acoustics
LATEST VIDEO