Coraline 3D
Picture: 5/5
3D-Ness: 5/5
Sound: 5/5
Extras: 0/5
Interactivity:0/5
Who's Got the Button?
Coraline Jones is a lonely little girl. She has just moved into a creepy old house, has no real friends, and her parents are so preoccupied with their work on a gardening catalog that they have no time for her. But she soon discovers a small, papered-over doorway in the living room. It leads to another universe—similar to her own but different in important ways. Her "other" parents in that universe are devoted to satisfying her every whim. Her only new friend there doesn't talk much (actually, not at all), the neighbors who share the old, subdivided house are fascinating rather than merely eccentric, and everything is colorful and fun.
All is not what it seems. Coraline is, at its core, a bloodless horror story. Much like the recent computer-animated film 9 (the first post-apocalyptic sock-puppet movie, and another dynamite audio/video transfer), it gets under your skin in ways that animated fare rarely does and could seriously frighten young children. It also uses stop-motion animation as refined by stop-motion expert Henry Selick (The Nightmare Before Christmas, Monkeybone, James and the Giant Peach).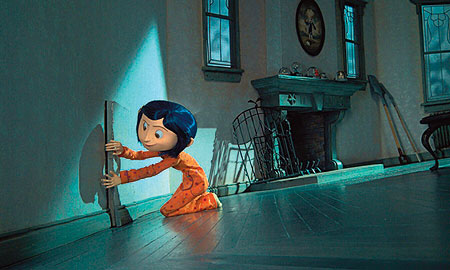 Coraline isn't an obvious 3D tour-de-force. But as you become engrossed in the story, the 3D makes a progressively stronger impression. The 3D effects are subdued, but in a way, they are more effective in showing off 3D's storytelling potential than the other animated 3D releases reviewed here. In fact, Coraline is so engrossing that its 3D on a relatively small HDTV more than compensates for the loss of immersion available from a 2D presentation projected onto a larger screen. The dark subject matter also suffers little from the inevitable loss of brightness characteristic of 3D—in fact, it may actually benefit from it.
The DTS-HD Master Audio soundtrack is incredible, but in ways that are very different from the usual soundtrack clichés. There's deep bass, but it's confined to where it's really needed, including a brief but stunning thunderclap and climactic action beats. But what really knocked me out here were the subtleties, from soft, delicate sound effects to an astonishingly rich, choir- and harp-heavy musical score. This is a disc to demo for your friends who think home theater audio is all about crash-boom-bang fireworks. Sometimes it is, but not always and not here. Coraline uses multichannel sound in ways that will surprise you if you actually listen.
There are no extras on this Panasonic-exclusive 3D release, but that's likely to change when a for-sale version is released.