Confessions of a Shopaholic (Blu-ray)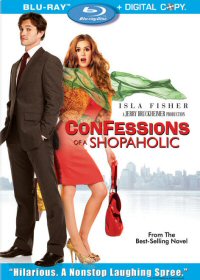 When Rebecca Bloomwood (Isla Fisher) loses her job, her maxed-out credit cards begin to cramp her style. Her dream job is to work for
Alette
, one of New York's elite fashion magazines, but when the position's filled internally, her only job opportunity is with
Successful Saving
, a struggling financial magazine owned by the same publishing company. With a debt collector (Robert Stanton) hot on her heels, Rebecca becomes the unlikely author of a column on saving money.
Unfortunately, Rebecca's lifestyle is more common than it should be—spend until you're maxed out! It's one reason we're in the middle of an economic disaster. Regardless, there are some funny scenes, particularly when Rebecca meets some Finnish executives and has to ad lib her replies to them in front of her boss since she exaggerated her capabilities on her résumé. The chemistry between Fisher and her editor/love interest (Hugh Dancy) is good, and the moral of the story is decent, although I could have done without some of the slapstick.
The AVC encode is sparklingly clean and clear, with a radiant color palette that features deep reds, bright pinks, and emerald greens. The contrast is a little hot at the expense of depth and natural flesh tones, but it's consistent from beginning to end, leading me to believe it was intentional and not an encoding issue. Resolution is generally good, although there are a few cases of softness creeping into the picture, spoiling an otherwise solid video transfer.
As expected with a romantic comedy, the DTS-HD MA soundtrack is a front-loaded affair. The surround speakers rarely feature any ambience, even on the busy streets of New York, although the pop-music score offers decent bleed toward the rear of the room. The dialog is always intelligible, but the sound design leaves a bit to be desired.
This 2-disc set includes a digital copy of the film along with a light assortment of forgettable bonus features. First up are six behind-the-scenes featurettes (HD) running a total of 14 minutes, followed by six minutes of deleted scenes (HD), some bloopers (HD), and three music videos (SD).
I can't see myself, or anyone else for that matter, watching this film more than once, but it's worth a rental. Isla Fisher proves she can handle the leading-lady role, and the video features a dazzling display of colors.
Release Date:June 23, 2009
Studio: Disney
Movie: 5/10
Picture: 8/10
Sound: 7/10

Review System
Source
Oppo BDP-83 Blu-ray player

Display
JVC DLA-RS1 projector
Stewart FireHawk screen (76.5" wide, 16:9)
Electronics
Onkyo Pro PR-SC885 pre/pro
Anthem PVA-7 power amplifier
Belkin PF60 power conditioner
Speakers
M&K S-150s (L, C, R)
M&K SS-150s (LS, RS, SBL, SBR)
SVS PC-Ultra subwoofer
Cables
Monoprice HDMI cables (source to pre/pro)
Best Deal analog-audio cables
PureLink HDC Fiber Optic HDMI Cable System (15 meters) from pre/pro to projector

Acoustical treatments from GIK Acoustics
LATEST VIDEO