Concussion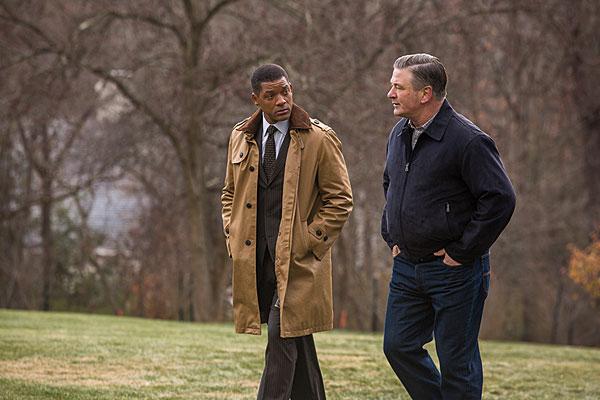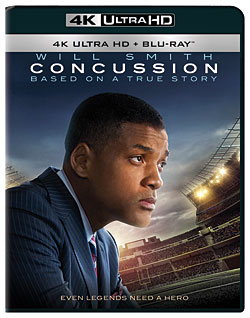 There are some great moments in this film as Dr. Bennet Omalu (Will Smith) makes his case that football is a very dangerous sport. Anyone with an ounce of common sense should know that repeatedly banging your head at high speed—even with a helmet—can't be good for you, but until recently, the NFL denied any link between football and brain trauma. When the disease was first diagnosed in 2002, the NFL released the hounds on the young doctor and did everything they could to silence him, but his relentless pursuit of doing the right thing embodies the American spirit of never giving up despite the obstacles.
Sony is all-in on UHD with their first day-and-date title on the new format, delivering spectacular results. The video encode is flawless, featuring fantastic detail, bottomless blacks, and some subtle but effective use of high dynamic range. For example, some low-light interior scenes have windows in the background with sunlight bursting into the room. In direct comparison with the Blu-ray, the added dynamic range is readily apparent in these scenes, making the 1080p image look flat and lifeless next to the 4K image. Furthermore, the expanded color palette boasts richer colors, which certainly aid in the stunning image.
The Dolby Atmos (TrueHD 7.1 core) is somewhat wasted on this film due to its dramatic theme, but there is some score bleed to the overhead speakers. When Omalu visits various football practices, the soundstage becomes much more active, with the coaches' whistles and the impact of the violent collisions taking place.
This set comes with a 4K disc and a standard Blu-ray, with all the supplements presented in the lower-resolution format. These include nine deleted scenes, two featurettes, and a director's commentary, along with an UltraViolet Digital Copy.
Blu-Ray
Studio: Sony, 2015
Aspect Ratio: 2.35:1
Audio Format: Dolby Atmos/TrueHD 7.1 core
Length: 123 mins.
MPAA Rating: PG-13
Director: Peter Landesman
Starring: Will Smith, Albert Brooks, Gugu Mbatha-Raw
Football Hall of Famer Mike Webster of the Pittsburg Steelers won four Super Bowl rings throughout his 17-year NFL career. He retired in 1990 and was enshrined seven years later, but his life would go downhill from there: Five years later, he was dead from a heart attack. The sad story would have stopped there if it weren't for a junior pathologist in the Allegheny coroner's office whose relentless search to know why led to the discovery of chronic traumatic encephalopathy, or CTE. As more cases came to his attention, this Nigerian-born doctor took on one of the most powerful institutions in the world—the NFL.