Comcast and Fandango Deal Enables Movie Ticket Purchases Through Your TV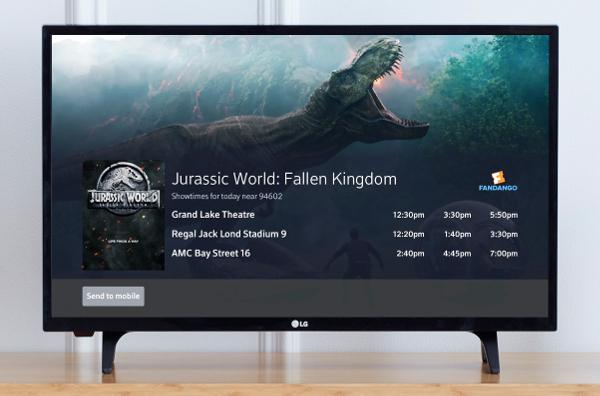 Comcast Xfinity and Fandango today announced a new feature that will let Xfinity X1 subscribers search local showtimes and initiate the purchase of movie tickets right from their televisions.
The first-of-its-kind capability, which will be limited at the outset, is available to X1 subscriber's starting today.
Here's how it works:
When you watch the trailer for Jurassic World: Fallen Kingdom on Xfinity On Demand, an on-screen notification prompts you to say "get tickets" into the X1 voice remote (or press the info button on the remote) to review showtimes at nearby theaters and initiate the ticket-buying process. To complete the transaction, you have to opt to have the list of local showtimes sent to your phone where you can complete the purchase via Fandango's mobile app or website.
"We're launching this experience starting with Jurassic World: Fallen Kingdom in conjunction with the film's trailer and look forward to further enhancing additional movie titles with this functionality throughout the year," said Comcast VP Nancy Spears.
Jurassic World: Fallen Kingdom opens June 22 and marks the 25th anniversary of the original Jurassic Park.
Comcast also announced a curated "Jurassic World" destination on X1 where Xfinity subscribers can rent or buy any of the previous Jurassic Park films, pre-order Jurassic World: Fallen Kingdom, and access clips, trailers, and other content related to the film franchise. Viewers can access the special area through the movies section on Xfinity On Demand or by saying "Jurassic World" into the X1 voice remote.