Cocoon (Blu-ray)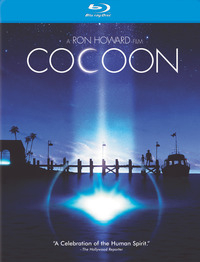 Art (Don Ameche), Ben (Wilford Brimley), and Joe (Hume Cronyn) live a perfectly respectable life in a Florida retirement community. In order to feel younger, the three break into an indoor pool at a nearby property for the thrill of the experience and some private pool time. When a group of aliens from another world rent the property some strange physiological changes begin to occur making the men wonder if they've discovered the Fountain of Youth.
It's hard to believe 25 years have passed but this film holds up remarkably well. Ron Howard takes a story that could have turned ultra-corny and creates a toughing and sometimes hilarious look at growing old and dealing with mortality.
Video Highlights

AVC/1080p encode on a BD-50 disc
Occasional edge enhancement
Soft and filtered cinematography
Decent special effects for the era
Clean print
Adequate color saturation and black level
Audio Highlights

DTS-HD MA 5.1 soundtrack
Decent dynamics
Surprisingly good surround envelopment
Intelligible dialog
The film certainly shows its age, but Fox has done a decent job with the encode.
Bonus Materials

Commentary by Ron Howard/LI>
4 featurettes (SD)
Trailers and TV spots
I consider this a classic film from the 1980s and love the interplay between the main characters. The audio/video presentation is quite good and if you're looking for some good laughs be sure to check this one out. Recommended.
Click here to email any comments or questions!
Release Date: April 6, 2010
Studio: Fox
Movie: 8/10
Picture: 7/10
Sound: 8/10

Review System
Source
Oppo BDP-83 Blu-ray player

Display
JVC DLA-RS1 projector
Stewart FireHawk screen (76.5" wide, 16:9)
Electronics
Onkyo Pro PR-SC885 pre/pro
Anthem PVA-7 power amplifier
Panamax M5400PM power conditioner
Speakers
M&K S-150s (L, C, R)
M&K SS-150s (LS, RS, SBL, SBR)
SVS PC-Ultra subwoofer
Cables
Monoprice HDMI cables (source to pre/pro)
Best Deal analog-audio cables
PureLink HDC Fiber Optic HDMI Cable System (15 meters) from pre/pro to projector

Acoustical treatments from GIK Acoustics
LATEST VIDEO