Clint + Angelina = Clintgelina?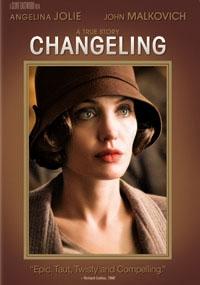 Universal
---
Movie ••• Picture •••• Sound •••½ Extras ••½
All movies directed by Clint Eastwood are grounded in a single, unwavering M.O.: They are relaxed, restrained, tasteful, and ploddingly paced. Sometimes, this approach works to near-perfection; see
Unforgiven
. Other times, it wrecks otherwise outstanding material; see (or
don't
see)
Midnight in the Garden of Good and Evil
.
Eastwood's latest entry falls somewhere between those two extremes. It's entertaining enough for a pleasant night in, but it still feels like a missed opportunity, a work that could have had far more depth and drama.
Changeling is based on the extraordinary true story of Christine Collins, a quiet, middle-class switchboard supervisor in 1920s Los Angeles who winds up taking on a shockingly corrupt L.A.P.D. after her son disappears. Unfortunately, the movie is saddled with a brooding, oddly unaffecting performance by Angelina Jolie - Oscar nomination notwithstanding. In the end, she just seems miscast, as does John Malkovich, who phones in his portrayal of a crusading minister.
More successful is the film's painstaking re-creation of a particular time and place. And cinematographer Tom Stern wisely mutes the color palette that is typically generated onscreen by L.A.'s golden-hued light, resulting in the slightly more sinister look that the movie desperately needs.
Changeling comes off crisp and clean on DVD, putting a welcome emphasis on the consistently engaging visuals. Eastwood's own piano-driven score powers the Dolby Digital 5.1 soundtrack nicely.
Two documentaries totaling less than 20 minutes seem like an afterthought - but then they suit that whole "restrained, tasteful" M.O. to a suspicious degree.
LATEST VIDEO