Clarus Unveils New High-End Audio Cables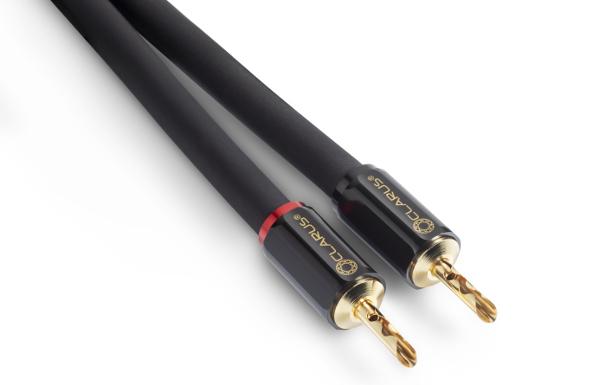 Responding to "repeated requests" from its customers, Clarus, the sister brand of Tributaries specializing in high-end audio cables, is updating its popular Crimson line with new Mark II balanced XLR and singled-ended RCA audio cables and speaker cables.
The new cables — six in all — feature a multi-gauge design comprising three insulated pure copper (PCOCC) conductors and connectors made with low-resistance tellurium (TE) copper and military-grade beryllium (BE) copper, which possesses a "springiness" that makes it "ideal" for use in the grounding sleeves of the new RCA cables, speaker-cable banana plugs, and the pins in female XLR cables.
The company has transitioned from a solid design to hollow core TE copper for the RCA and XLR male pins to "reduce eddy currents that can slow signal transfer." The new XLR cables are also designed with the ground pin forward in the connector, which is said to establish ground before signal lines are connected so cables can be inserted and removed without hum or buzz.
Clarus is also introducing a patented "spring-tension" spade lug as one of its new speaker-cable options. The design makes it easier to tighten spade lugs to ensure a robust connection that won't vibrate loose over time, according to the company. The lug's one-piece construction is also said to improve signal flow by reducing transmission resistance.
Designed by Jay Victor, a musician and holder of 50 patents, all Clarus cables are evaluated using test instruments with extensive listening tests and comparisons with reference designs serving as the final arbiter.
The new Clarus Mark II cable lineup is as follows:
• 1 meter single-ended RCA ($1,140/pair)
• 1 meter balanced XLR ($1,925/pair)
• 6-foot speaker cable with spade lugs ($4,000/pair)
• 6-foot speaker cable with banana plugs ($4,000/pair)
• 6-foot bi-wire cable with spade lugs ($5,000/pair)
• 6-foot bi-wire cable with banana plugs ($5,000/pair)
The banana plug and spade lug cables are available now with the other cables to follow late this year.
For more information, visit claruscable.com.